Transport
Driving Licence
Anyone with an English language licence containing a photograph can use it in Zimbabwe for up to 90 days. For non-English language licenses, apply for an International Driving Permit from your local AA.
Transport in Zimbabwe
Self-driving often gives more independence and flexibility and is a good way to explore the country, see the wildlife and visit the National Parks. A 4x4 is only obligatory in the rainy season, but vehicles should have high clearance.
General driving information
Driving is on the left-hand side of the road (UK system) and at roundabouts and at give way signs drivers must give way to traffic coming from the right and to vehicles already circulation on the roundabout. Wearing seat belts is compulsory for front seat occupants of a vehicle.
Zimbabwe inherited the best road infrastructure in Africa, but it soon became quite dilapidated with the economic collapse of 2008. Since the introduction of tolls a lot of road construction has taken place to improve the country's national roads which are now in pretty good shape compared to other African countries. This means that driving between cities on all the national roads is fairly safe; the roads between Victoria Falls and Bulawayo, Bulawayo and Masvingo (Great Zimbabwe) Bulawayo and Harare and Masvingo and Mutare are all in excellent condition. Only the A4 between Harare and Beit Bridge has still to be widened and upgraded and carries a lot of slow heavy Lorries. Travelling at night is never advised as there are no fences along the highways meaning outside the cities livestock including cattle, donkeys, goats and dogs can wander onto the roads outside and many vehicles have poor and badly adjusted headlamps. From November to March during the rainy season potholes are a very common occurrence and are a serious threat to any vehicle that is travelling too fast.
There are always plenty of police blocks outside cities, perhaps as many as ten between Harare and Bulawayo and they may involve delays, but keep your cool. They are usually uneventful and in a modern vehicle which has paid up road and radio licences you will probably be waved through, or asked to show your licence and your Temporary Import Permit (TIP). Police will fine you if you do not have adhesive reflectors on your car, red hazard triangles in your boot, a spare tyre, and a fire extinguisher: these items are listed below. Pity the kombi and mini-bus drivers who are inevitably pulled over. Roadblocks manned by less than three policemen are illegal and maybe a scam.
Speed traps are common so keep your eyes peeled for speed limit signs which you should obey to avoid fines. In general, keep under 60 km / h when you get close to towns and cities and 120 km / h in unrestricted zones on national roads.
In town if you hear sirens, or see motorbikes and other vehicles with flashing lights, pull off the road immediately and as far on to the grass as possible as they signal that the president's cavalcade with armed troops is coming past.
In towns quite often the lights at road junctions are not working. Put your flasher lights on and proceed cautiously when the road is clear. No need to panic as Zimbabwean drivers are used to this occurrence and an unwritten form of etiquette has developed.
Be cautious of bag snatchers at traffic lights especially at night; keep doors locked and windows up, handbags under car seats and all suitcases locked in the boot.
Fuel prices are generally cheaper in Harare, but will vary around the country. All fuel is imported which makes it more expensive than many neighbouring countries. Distances are quite long between towns and drivers should always try to keep the tank above the halfway mark just to be on the safe side. Note that almost no gas stations in Zimbabwe currently take credit cards and all payments are in cash.
A map book is very useful, or use Tracks4Africa for online GPS maps.
Bringing a car over the border into Zimbabwe requires:
Valid passport of the driver.
Vehicle registration book in the name of the driver.
Letter of authority from the registered owner if the vehicle is not owned by the driver.
Temporary exportation document from the Customs authorities in the country from where the visitor is coming from.
A fire extinguisher, warning triangles, a serviceable spare wheel and an efficient jack and a wheel spanner within the car. Two white reflex reflectors are required on each side of the front bumper and two red reflex reflectors on each side of the rear bumper. The first police roadblock from the border will notice if these are missing and fine you.
At the border, you will get a small piece of stamped paper at the entrance, called a Gate Pass.
At the Customs (Zimra) counter, complete a form called "Temporary Import Permit" (TIP) for the

vehicle. This is free.

Pay Carbon Tax which is payable in US$, Euro, Rand or Pula. The fees differ depending on the engine capacity of the car, but vary between US $6 and $30.
Pay Road Access Fee, around US $10. Here's a link to the Zimra website showing Road Access Fees.
4x4's pay for a CVG (Commercial Vehicle Guarantee), around US$ 50
Road toll fees will also be payable (about US$10 between Harare and Bulawayo)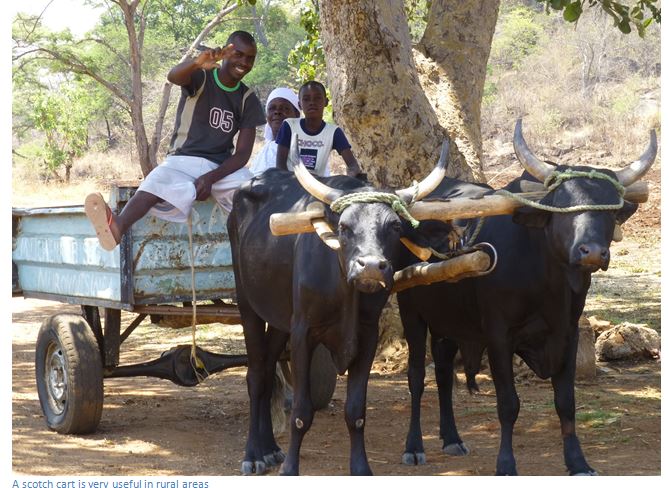 Car Hire
If you are looking for a tour of Zimbabwe without having to stick to a planned itinerary, then a self-drive safari might be the answer. In this way, you will be able to discover the country and its attractions with the freedom of doing so at your own pace.
Most of the international car hire companies are represented in Zimbabwe including Avis, Europcar, Impala, LED, Luckybean, Rockshade, Safari4x4 hire and offer pick-up / drop-off at either Harare International Airport, or Bulawayo or Victoria falls.
Rental requirement are a valid international drivers' licence or an English language licence and a valid credit card. South African driver's licences are recognized within the whole of the SADC region.
The car hire rentals generally includes unlimited kilometres, tourism levy, airport surcharge, personal accident insurance, standard collision damage waiver (CDW), standard theft loss waiver (TLW), value added tax, delivery and collection within a 30 kilometre radius
Car hire rentals usually exclude fuel, refundable deposit, additional driver fee, one way rental fees, delivery and collection fee (outside of 30kilometres), traffic fine handling fee, cross border fees, tyre, rim and hubcap damage, claim administration fee in the event of damage and / or theft, water and under-carriage damage.
Getting around by plane
In the past many more airlines flew direct to Zimbabwe including KLM and British Airways and if the economic situation improves again they may well re-instate those direct flights.
Airlines

Destinations from Harare international

Lusaka, Windhoek

Bulawayo, Johannesburg-OR Tambo, Victoria Falls, Kariba

Dubai-International, Lusaka

Addis Ababa, Lusaka

Dar es Salaam, Victoria Falls, Harare

Flyafrica

Lusaka, Nairobi-Jomo Kenyatta

Maputo, Beira

Lilongwe, Blantyre, Tete
Only the first stopover is listed above so for passengers flying to London they would stopover in Lusaka before flying to Dubai and then London. Most international airlines fly to Johannesburg, so for many international travellers this is the preferred route.
Between 1999 and 2010 almost all of the major airlines originally plying the Harare route had left and at the same time the city suffered the negative stereotype of being the capital city of a country that was no longer perceived by the bulk of the international community as a good place to travel to. This perception is changing rapidly as Harare and its surrounds are seen as one of Africa's best and most vibrant cities to spend time in. Emirates, KLM, Ethiopian, Egypt Air (from 01 June 2013) and Kenyan Airways all fly regularly into Harare, linking southern Africa's 'Sunshine City' through their own airport hubs to virtually every corner of the globe.
Many people now consider flying long-haul into Harare is a good option and increasingly the airlines that left are re-establishing their flights into Harare which means visitors can now cut out first having to go through Johannesburg in South Africa, which had become the only reliable route into the region. This will reduce the long haul flight time and increase access to the bulk of the region's finest luxury safari and adventure destinations as Air Zimbabwe is operating daily domestic flights from Harare to Bulawayo and Victoria Falls. Bumi Air operates scheduled light aircraft flights between Harare, Victoria Falls and the Bumi Hills air strip and Safari Logistics and Alt Air also operate light aircraft on a variety of domestic routes on a 'pay-per-seat' or scheduled basis around the country.
By bus
There are two types of local buses: express and local. Regular express bus services operate according to published timetables from Johannesburg to Harare and Bulawayo and several bus companies also operate direct buses to Blantyre, Malawi and between Harare and Bulawayo. There is no public transport from Victoria Falls to Botswana, but taxi will take travellers to the border and some hotels in Vic Falls can arrange transfers. These connections are frequent, their timetables can be relied upon and their fares are still comparatively reasonable. They are the fastest and most reliable form of travel between major cities and as local incomes increase more services are becoming available.
Local buses normally depart when full from township markets outside the centre of a town. These are old public buses, often enveloped in a black cloud of diesel exhaust fumes that stop at every intersection and carry almost everything from wheelbarrows to sofas. They are often the only affordable way for local people and the only means of transportation available in rural areas. Travel if you would like the experience and you will be received with friendly smiles and politeness as always and everywhere in Zimbabwe but they are not usually that roadworthy and very often extremely late due to frequent breakdowns.
Minibus taxis are available for intra-city transport, and are relatively inexpensive by European standards and they provide a cheap, though a not necessarily safe or very comfortable way of seeing the true Zimbabwe.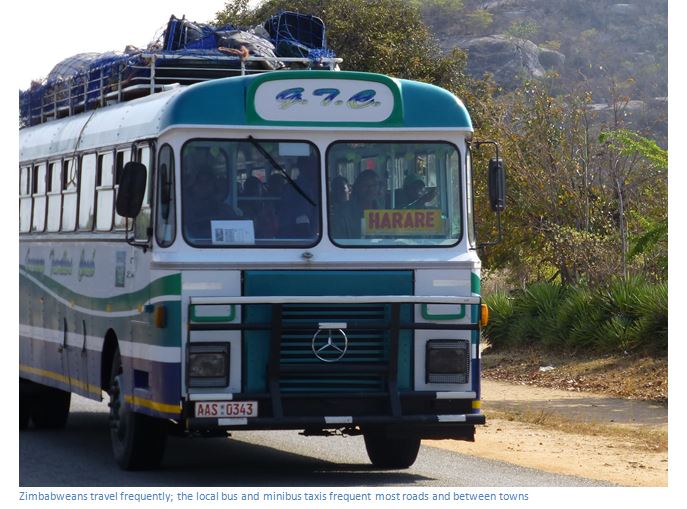 By train
Zimbabwe's railway network connects Harare, Bulawayo, Mutare and Victoria Falls. Trains are very slow; they are in desperate need of servicing and parts and the only train journey worth considering is between Bulawayo to the Victoria Falls which passes through Hwange National Park, one of the biggest in Africa.