General Info
Acknowledgements
The author congratulates Zimbabwe Parks and Wildlife Management Authority (ZPWMA) on their efforts and for participating in the many joint-ventures which have been initiated with voluntary and private organisations including the numerous Game Lodges throughout the country and other wildlife authorities such as Frankfurt Zoological Society and Savé Valley Conservancy, Tashinga Initiative, Friends of Hwange, Bhejane Trust, Matobo Rhino Initiative Trust, Dambari Trust, Wildlife and Environment Zimbabwe, Zimbabwe's Community-Based Resource Management Forum, World Wildlife Fund and local community based efforts such as AWARE Trust, Birdlife Zimbabwe, Kariba Animal Welfare Fund Trust, Gache Gache Wildlife & Environmental Protection Unit, Matusadona Anti-Poaching Project, RIFA Conservation Education Camp, The Zambezi Society, AWARE, Victoria Falls Anti-Poaching Unit and Zimbabwe Conservation Task Force.
Many of these collaborative ventures where ZPWMA have teamed up with safari operators and lodge owners to work in partnerships have resulted in very positive outcomes and these efforts need to be continued and encouraged as good outcomes will benefit all Zimbabweans.There is much goodwill in the donor community towards ZPWMA and a recognition that practical solutions are required for water and fencing issues and anti-poaching activities and for much needed projects such as the Great Elephant Census (www.greatelephantcensus.com) funded by the Paul Allen Foundation. A viable and responsible ZPWMA which acts responsibly for the benefit of Zimbabwe is required for tourism and the future of wildlife in Zimbabwe and will ensure that the donor community and NGO's will respond positively.
Many of the ZPWMA Rangers and staff carry out their often difficult and dangerous tasks patrolling the National Parks with very limited support; but whenever visitors come across them they are unfailingly modest, helpful and friendly.
Also the work carried out by National Museums and Monuments of Zimbabwe (NMMZ) and the National Archives needs to be acknowledged and encouraged. Together they preserve the fabric of the national and cultural monuments and the documents that record the information making up the history that modern visitors and residents of this country find so fascinating. NMMZ are responsible for the signage to the sites, the site museums and the general upkeep and fabric of the various sites. That so many very remote sites including ruins and rock shelters are generally in good condition is evidence of their efforts and the general respect that ordinary Zimbabweans have for their past heritage. The San people people who painted on the rock granite surfaces of rock shelters, the stone masons who built Great Zimbabwe, or Danan'ombe, or the contractors who drilled the boreholes at Hwange National Park in the 1930's did not know they were making history. The only way that today's visitors and residents of Zimbabwe can appreciate the jigsaw puzzle of Zimbabwe's history is by visiting and by walking through the these silent sites and examining them and reading the excellent site descriptions and brochures that are available which I would encourage NMMZ to keep expanding. If this guide helps those visitors a little in understanding the background information then the effort in preparing it will have been repaid.
Finally thanks to my wife for all her enthusiasm and unflagging support.
Foreward
Despite all the internal political upheaval and subsequent poor international press that Zimbabwe has endured over the past fifteen years, potential visitors should be assured that the country and its people still make a great and safe destination. The local people visitors will meet still remain amongst the warmest and most friendly people you can find in Africa not withstanding all the suffering and poverty that has been inflicted by politicians on them.
The urban areas have probably been affected least, although even they have decined in terms of cleanliness, road and electricity infrastructure and health facilities. Nevertheless, they are still in place and infinitely better than many other African countries. The days of hyper-inflation and fuel queues and empty shelves are gone and only a painful memory.
For most visitors the towns are just a destination they will transit on their way to Victoria Falls and the white water rafting, Mana Pools and the Zambezi Valley for a canoeing trip, Lake Kariba for the fishing, Hwange for a walking safari, or Nyanga for the cool mountain air.
One of the purposes of this website is to reassure visitors that the whole of Zimbabwe, including those remotest corners, are safe to travel. You may not find fresh bread, but you will also not feel threatened, or unsafe and malaria is more of a concern than threats to your physical safety. Travelling outside the popular visitor destinations may involve stepping out of the comfort zone a bit; may require some planning to ensure you do not run out of supplies, but visiting the remotest National Parks and Wilderness areas is still very possible and the encounters you will experience with both wild animals and people on the journey make the effort entirely worthwhile
Zimbabwe Birds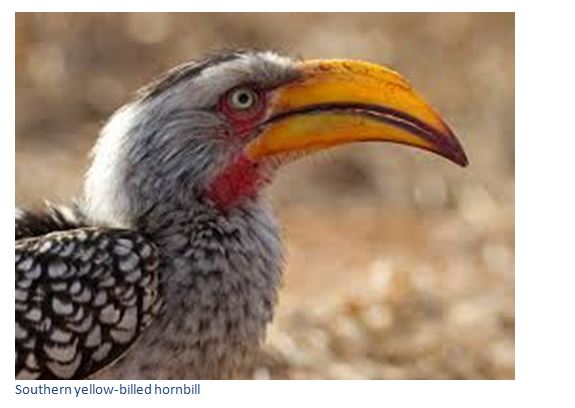 Zimbabwe has over 650 bird species and is an excellent birding destination. Although there are no endemic birds, several near-endemics can be found in the globally important Eastern Zimbabwe Mountains Endemic Bird

Area (EBA) and many migratory birds are present from November to April. Overall the general number of birds

that can be seen in Zimbabwe is remarkable.

Notable birds are:

Black-headed oriole

common

Livingstone's turaco

common

Carmine bee-eater

common

migratory

Southern yellow-billed hornbill

common

Greater painted snipe

rare

White-faced duck

common

Near Endemics include:

Briar warbler

Melodious lark

Chirinda apalis

Swee waxbill

Gurney's sugarbird

Swynnerton's robin

Lemon-breasted canary

Woodwards's batis

Other birding specials are:

African pitta

Cabanis's bunting

Southern hyliota

African skimmer

Buff-spotted flufftail

Southern pied babbler

Arnot's chat

Cinnamon-breasted tit

Spotted creeper

Ayre's hawk-eagle

Pennant-winged nightjar

Stripe cheek greenbul

Blue-mantled crested flycatcher

Racket-tailed roller

Swamp nightjar

Boulder chat

Red-faced crombec

Verreaux's eagle-owl

Bradfield's hornbill

Red-throated twinspot

White-breasted cuckoo-shrike

Bronze-winged courser

Robert's prinia

Bronzy sunbird

Rufous-bellied tit
Best time for bird watching is during the rainy season and summer from October to April. Many birds are resident and breed in Zimbabwe throughout the year, but the summer residents come to breed before migrating north in winter to other parts of Africa and the visitors who come mostly from Eurasia during the summer months before migrating north to breed.
The Eastern Highlands are well-known birding hotspots, but most National Parks including Mana Pools, Hwange and Matobo National Parks have a very rich birdlife.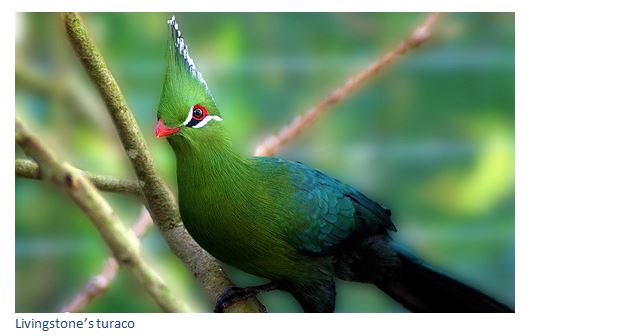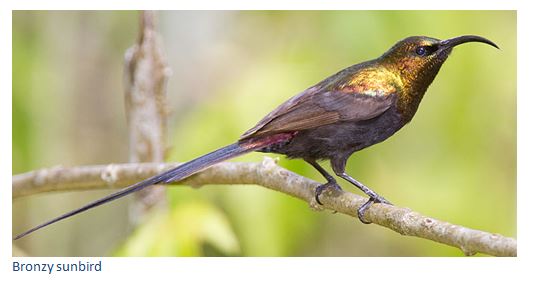 Zimbabwe Animals
Most of Zimbabwe's animals are located in the National Parks and private wildlife ranches which are distributed over the diverse landscape of Zimbabwe ranging from miombo woodlands to thorny acacia or kopje. Not only will visitors find the "Big Five" – buffalo, elephant, leopard, lion and rhino, but many other species, some of which are listed in the table below with the National Parks in which they can be found.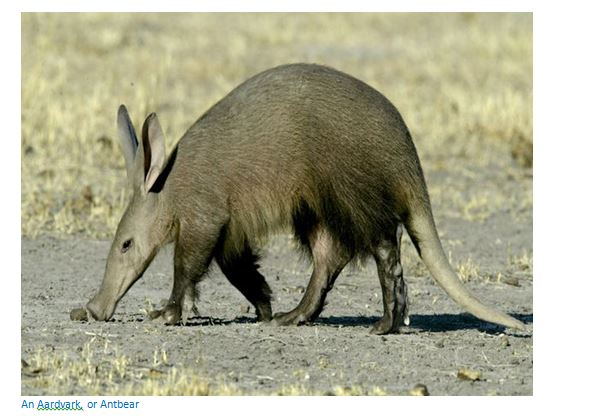 Table showing the National Parks where Zimbabwe's mammals can be sighted

English Name

Latin Name

1

2

3

4

5

6

7

8

9

10

Sightings

Aardvark (Antbear)

Orycteropus afer

ü

ü

ü

ü

ü

ü

ü

ü

ü

ü

Rare

Aardwolf

Proteles cristatus

ü

ü

ü

ü

ü

ü

Rare

African Civet

Civettictis civetta

ü

ü

ü

ü

ü

ü

ü

ü

ü

ü

Rare

African Wild Cat

Felis silvestris lybica

ü

ü

ü

ü

ü

ü

ü

ü

ü

ü

Rare

Baboon (Chacma)

Papio (hamadryas) cynocephalus

ü

ü

ü

ü

ü

ü

ü

ü

ü

ü

Abundant

Buffalo - African (Savannah)

Syncerus caffer

ü

ü

ü

ü

ü

ü

ü

Common

Bushbuck

Tragelaphus scripyus

ü

ü

ü

ü

ü

ü

ü

ü

ü

ü

Abundant

Bushpig

Potamochoerus larvatus

ü

ü

ü

ü

ü

ü

ü

ü

ü

ü

Abundant

Cape Clawless Otter

Aonyx capensis

ü

ü

ü

Rare

Caracal

Caracal caracal

ü

ü

ü

ü

ü

ü

ü

ü

ü

ü

Rare

Cheetah

Acinonyx jubatus

ü

ü



Rare

Crocodile - Nile

Crocodylus niloticus

ü



ü

ü

Abundant

Duiker - Blue

Cephalophus monticola

ü

ü

Rare

Duiker - Common (Grey)

Sylvicapra grimmia

ü

ü

ü

ü

ü

ü

ü

ü

ü

ü

Abundant

Eland

Tragelaphus oryx

ü

ü

ü

ü

ü

ü

ü

ü

Common

Elephant - African savannah

Loxodonta africana

ü

ü

ü

ü

ü

ü

ü

Abundant

Fox - Bat-Eared

Otocyon megalotis

ü

ü

Rare

Galago - Southern Lesser (Bushbaby)

Galago moholi

ü

ü

ü

ü

ü

ü

ü

ü

ü

ü

Occasional

Galago - Thick tailed (Greater)

Otolemur crassicaudatus

ü

ü

ü

ü

ü

ü

Occasional

Gemsbok (Southern Oryx)

Oryx gazella

ü

ü

Occasional

Genet - Large-Spotted

Genetta maculata

ü

ü

ü

ü

ü

ü

ü

ü

ü

ü

Occasional

Genet - Small-Spotted

Genetta genetta

ü

ü

ü

ü

ü

Occasional

Gerbil Bushveld

Gerbilliscus leocogaster

ü

ü

ü

ü

ü

ü

ü

ü

ü

ü

Common

Giraffe

Giraffa camelopardalis

ü

ü

ü

ü

Common

Hare - Scrub

Lepus saxatilis

ü

ü

ü

ü

ü

ü

ü

ü

ü

ü

Abundant

Hedgehog - Southern African

Atelix frontalis

ü

ü

ü

ü

Occasional

Hippopotamus

Hippopotamus amphibius

ü

ü

ü

ü

Abundant

Honey Badger (Ratel)

Mellivora capensis

ü

ü

ü

ü

ü

ü

ü

ü

ü

ü

Rare

Hyena - Brown

Parahyaena brunnae

ü

ü

ü

Common

Hyena - Spotted

Crocuta crocuta

ü

ü

ü

ü

ü

ü

ü

ü

ü

ü

Common

Impala

Aepyceros melampus

ü

ü

ü

ü

ü

ü

ü

ü

ü

ü

Abundant

Jackal - Black-Backed

Canis mesomelas

ü

ü

ü

Rare

Jackal - Side-Striped

Canus adustus

ü

ü

ü

ü

ü

ü

ü

ü

ü

ü

Rare

Klipspringer

Oreotragus oreotragus

ü

ü

ü

ü

ü

ü

ü

ü

ü

ü

Abundant

Kudu - Greater

Tragelaphus strepsiceros

ü

ü

ü

ü

ü

ü

ü

ü

ü

ü

Abundant

Leopard

Panthera pardus

ü

ü

ü

ü

ü

ü

ü

ü

ü

ü

Occasional

Lichtenstein's Hartebeest

Alcelaphus lichtensteini

ü

Rare

Lion

Panthera leo

ü

ü

ü

ü

ü

ü

Common

Mongoose - Banded

Mungos mungo

ü

ü

ü

ü

Occasional

Mongoose - slender

Galerella sanguinea

ü

ü

ü

ü

ü

ü

ü

ü

ü

ü

Common

Mongoose - Water

Atilax paludinosus

ü

ü

ü

ü

Occasional

Mongoose - white tailed

Ichneumia albicauda

ü

ü

ü

ü

ü

ü

ü

ü

ü

ü

Common

Nyala

Tragelaphus angasii

ü

Rare

Oribi

Ourebia ourebi

ü



ü

Occasional

Pangolin - Ground

Manis temmincki

ü

ü

ü

ü

ü

ü

ü

ü

ü

ü

Rare

Porcupine - Cape

Hystrix africaeaustralis

ü

ü

ü

ü

ü

ü

ü

ü

ü

ü

Common

Reedbuck - Common

Redunca arundinum

ü

ü

ü

ü

ü

ü

ü

ü

ü

ü

Common

Rhinoceros - Hook-Lipped (black)

Diceros bicornis

ü

ü

Rare

Rhinoceros - Square-Lipped (white)

Ceratotherium simum

ü

ü

Rare

Roan Antelope

Hippotragus equinus

ü

ü

ü

ü

ü

ü

Occasional

Rock Hyrax (Dassie)

Procavia capensis

ü

ü

ü

ü

Abundant

Sable Antelope

Hippotragus niger

ü

ü

ü

ü

ü

ü

ü

ü

ü

ü

Common

Serval

Leptailurus serval

ü

ü

ü

ü

ü

ü

ü

ü

ü

ü

Rare

Sharpe's Grysbok

Raphicerus sharpei

ü

ü

ü

ü

ü

ü

ü

ü

ü

ü

Common

Southern African Springhare

Pedetes capensis

ü

ü

ü

ü

Abundant

Steenbok

Raphicerus campestris

ü

ü

ü

ü

ü

ü

Common

Striped Polecat

Ictonyx striatus

ü

ü

ü

ü

ü

ü

ü

ü

ü

ü

Rare

Sykes (Samango) Monkey

Cercopithecus albogularis

ü

ü

Rare

Tree Squirrel

Paraxerus cepapi

ü

ü

ü

ü

ü

ü

ü

ü

ü

ü

Abundant

Tsessebe

Damaliscus lunatus

ü

ü

Occasional

Vervet Monkey

cercopithecus pygerythrus

ü

ü

ü

ü

ü

ü

ü

ü

ü

ü

Abundant

Warthog

Phacochoerus africanus

ü

ü

ü

ü

ü

ü

ü

ü

ü

ü

Abundant

Waterbuck

Kobus wllipsiprymnus

ü

ü

ü

ü

ü

ü

ü

Common

Wild / Painted Dog

Lycaon pictus

ü

ü

ü

ü

ü

Rare

Wildebeeste (blue)

Connochaetes taurinus

ü

ü

ü

ü

Abundant

Zebra

Equus quagga

ü

ü

ü

ü

ü

ü

ü

ü

ü

Abundant

National Park

1

2

3

4

5

6

7

8

9

10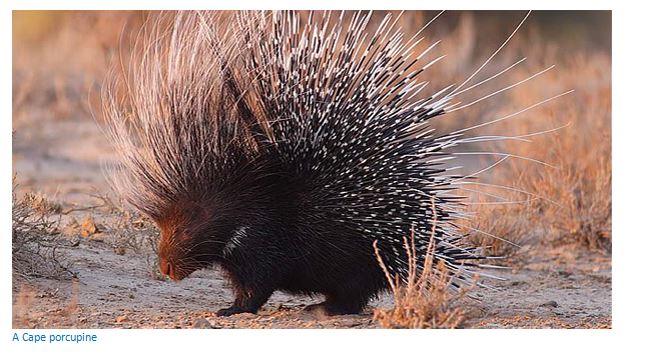 Poaching and the current wildlife crisis in Zimbabwe
The introduction of the Wildlife Conservation Act of 1960 improved the management of wildlife and by the 1990's Zimbabwe had become one of the leading countries in Africa in wildlife conservation and management with a reported income generation US$ 300 million per annum. The nationwide land grab in 2000 led to many invaders illegally occupying land, the resulting chaos leading to deforestation of prime habitats and an intensive poaching programme of snaring and hunting with dogs. Encouraged by reckless and provocative rhetoric from politicians this was accompanied by a general lawlessness and a wave of destruction. Properties were burnt out, trees cut down, tourists forced out of safari camps by irate war veterans, ranch scouts were disarmed, intimidated, severely assaulted and even killed as they have attempted to perform their duties whilst the police simply stood by and watched the proceedings.
The whole viability of most conservancies and wildlife parks was threatened and in some areas the level of poaching resulted in these areas becoming devoid of wildlife. For example, following the invasions almost 25 per cent of the 340,000 hectares of the Savé Valley Conservancy, one of Africa's largest conservancies became occupied by settlers, or inaccessible to the land owners and their staff due to threats and intimidation from the occupiers.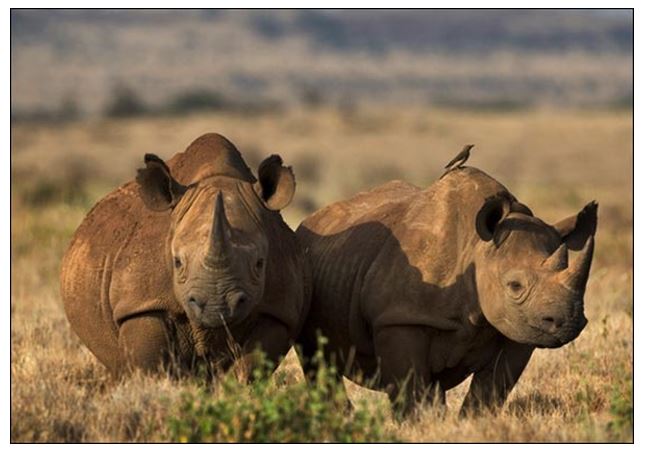 In a report headed Zimbabwe: Wildlife management - A tale of calamity, greed and a shattered ecological future the Centre for Public accountability (CPA) was extremely critical of the government's failures: "This is a failure that touches across the full waterfront of wildlife management systems in this country," says a former ZPWMA official. "The whole episode of human greed, reckless exploitation of animal resources and the lack of political will to adequately finance and support wildlife management systems in this country has caused unnecessary local and international alarm and wasted valuable resources."
Other ecologists, environmentalists and wildlife experts say deforestation, over-harvesting, rapid encroachment of human settlements into the country's National Parks, wildfires, lack of transparency in the award of safari hunting permits and quotas, the land reform, massive exodus of skilled professionals, political interference, unchecked plunder of wildlife resources by a narrow elite, marginalization of local communities, economic sanctions and lack of financial and material resources have had serious implications on the sustainable management of the country's wildlife resources. Global trade in endangered species and mistrust and tension between the government and private safari operators also added to the wildlife management woes in Zimbabwe.
However poaching remains the greatest threat to wildlife and in the past three decades, many of Zimbabwe's wild animals have suffered a massive decline in population due to poaching. Zimbabwe is home to thousands of species of animals which are now under threat from over exploitation, harvesting, or killing of animals for food, materials or medicine at a rate above the reproductive capacity of the population.
A visit by Chief of the Convention on International Trade in Endangered Species (CITES) Willem Wijnstekers exposed a number of serious shortcomings in the wildlife management system in the country. During the visit which was necessitated by rising reports of poaching of endangered rhino and elephant species, it was revealed that the Parks and Wildlife Management Authority had failed to carry out a game census since 2008. Political meddling, lack of financial and material resources and the general fear by a narrow elite that a game census will expose the nature wildlife calamity are the main reasons why a game census has not being undertaken.
"The problem with illegal hunting is that it is taking place with the assistance of ZPWMA officials and there are many cases where they are involved, either for personal gain or because they are following orders from more senior officials or politicians," chairman of the Zimbabwe Conservation Taskforce (ZCTF) Johnny Rodrigues was quoted saying recently. According to the ZCTF, Zimbabwe last year lost 350 rhinos, 20,000 zebras and over 6,000 elephants to poachers. The conservation group says most of the rhino horns and zebra skins from illegal poaching activities in the country were sold to medicinal markets in China and Vietnam.
According to a recent TRAFFIC report prepared for CITES, the illegal killing of rhinos in Zimbabwe has resulted in a loss of just over a quarter of its rhino population over the last three years. The Lowveld Rhino Trust (www.lowveldrhinotrust.org) which monitors and manages rhinos in southern Zimbabwe reports that about 130 rhinos were poached for their horns between 2008 and 2009. The Trust says rhino poaching remains a high-stake, organized endeavour in Zimbabwe undertaken by 'everyone from government officials and foreign diplomats to gangs of violent criminals."
It's not only the rhinos which are under threat. Conservationists estimate that 40-80 per cent of large game animals on former wildlife farms and conservancies have been poached. These figures vary from region to region, but true estimates are difficult to ascertain because many former landowners have been evicted, or the estimates have not been done. Poaching of wild animals on the formerly white-owned ranches is out of control and conservationists fear most animals from small, medium and large sizes have been decimated in most farming areas. They estimate that 80 per cent of the animals that lived on commercial game farms have been killed in the past decade after ranches were taken over by settlers and so-called war veterans. In most ranches anti-poaching patrols are overwhelmed, every day, poaching units find animals that have stumbled into wire snares and are suffocating to death. The World Wildlife Fund estimates up to 80 per cent of wildlife on reclaimed farms has been slaughtered since 2001, with little sign of the desire for bush meat and cash abating.
The Zimbabwe Conservation Task Force (www.zctfofficialsite.org ) objected recently when Zimbabwe announced that 62 baby elephants would be exported to China, France and the United Arab Emirates and the acting Environment Minister stated that Zimbabwe has in excess of 80,000 elephants, but only has the capacity for 42,000 despite the fact that no proper surveys have taken place in Zimbabwe for many years. Only when the results of an aerial survey carried out in 2014 / 15 by The Great Elephant Census (www.greatelephantcensus.com) funded by the Paul Allen Foundation the largest pan-African survey since the 1970's, will we know how many actually remain, where they are, what threats they face and whether in fact their numbers are increasing or decreasing.
Preliminary census figures for Zimbabwe are available and the chart from the Zambezi Society (www.zamsoc.org) shows a 40% decline in elephant numbers within the Middle Zambezi Valley in Zimbabwe since 2001 (from 18,000 to 11,500) and a 75% decline in the Sebungwe area south of Lake Kariba (from 13,000 to 4,000) Thankfully the number of elephants in Hwange National Park has shown a small increase of 10% (49,000 to 54,000) and Gonarezhou increases from a heavily poached base of 5,000 to 11,000. Overall the national herd is estimated to have decreased 6% from 88,000 to 82,000. The message for Zimbabwe is clear – poaching is rife in particular areas and we need to do something about it.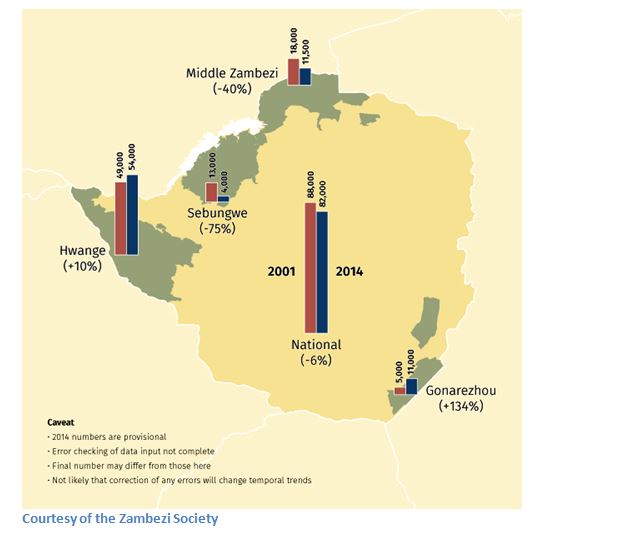 ZPWMA appears to have difficulty fulfilling its mandate owing largely to political interference, massive exodus of professionals, lack of financial and material resources, economic sanctions and a weak capacity to monitor and implement wildlife conservation practices. Government officials say the international community should reward Zimbabwe for its good wildlife conservation practices that have seen it preserve some of the world's rarest species.
ZPWMA officials deny any political meddling by powerful elites but say lack of resources has affected its anti-poaching patrols, wildfire control units, game stock taking, research, procurement of fencing and other materials required in the management of wildlife. The authority is failing to maintain its vehicle fleet, radio communication equipment and other vital infrastructure reducing its capacity to manage wildlife effectively.
Zimbabwe's Communal Areas Management Program (Campfire) was a huge success in the 1980s and inspired ongoing regional natural resource management programs in other countries including Namibia, Botswana, Zambia, Malawi and most other developing countries. The rationale for community involvement in the management of natural resources stems from the fact that local communities that derive direct benefits from managing natural resources are better motivated to protect those resources. It involves devolving control and management responsibilities to local people through appropriate legislation and biodiversity resource management frameworks using economic benefits to encourage communities to husband wildlife.
But, sadly, this approach has declined in its momentum in recent years pushing up poaching and conflicts between communities and parks authority. Experts say the extent and quality of community participation has declined sharply in recent years in most Campfire sites as powerful local elites and rural district councils capture all the benefits at the expense of local communities. Rural councils which retained authority to make and break contracts with hunting and tourism operators tended to siphon off a huge chunk of the proceeds through various taxes and levies.
Conservationists say building partnerships and mutual relations is critical - with communities benefiting from harvests of thatching grass, honey, mushroom, firewood collection and grazing their livestock in return for assistance in the control of wild fires, anti-poaching activities and the security of the game protection fence. If local people are guaranteed the benefits of sustainable land use and hunting practices, they will be willing to invest in sound wildlife management and embrace their responsibility to hunt sustainably.
The United States of America is the World's second largest global consumer of illicit products such as elephant tusks and ivory horn. In his opening letter outlining the new strategy for combating wildlife trafficking for the Departments of State, Interior and Justice Mr. Obama wrote that "because of the actions of poachers, species like elephants and rhinos, face the risk of significant decline or even extinction," adding that "well-armed, well-equipped, and well-organized networks of criminals and corrupt officials exploit porous borders and weak institutions."
Jimmiel Mandima, a Zimbabwean who is Director of Program Design and Partner Relations at the African Wildlife Foundation, which played a role in developing the national strategy said, "I consider this to be extremely commendable on the part of the U.S. government. And for us this just means the global community will look at the U.S. as a global leader that is charting the way to deal with this big problem of challenging the wildlife trafficking. The wildlife that has been targeted for this illicit trade is a natural heritage, mostly for Africa, but for the global community as a whole. The keystone species - elephants, rhinos, the great apes and the carnivores - are really ecological makers in the ecosystems and habitats. So they contribute to how the ecosystems provide services and goods to the whole global community…and are an economic asset, driving the tourism industry in many parts of the world."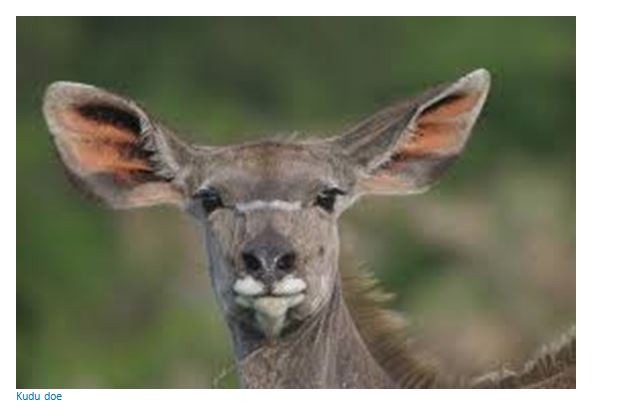 Safety tips within Zimbabwe
Politics in Zimbabwe continues to cause great distress and damage conjuring up an image of chaos and insecurity. Despite this, Zimbabwe is a safe country to visit, particularly if it is primarily an organized safari or tour. Zimbabwe's political-economic situation is volatile, but rarely affects tourists. As with many third-world countries, theft and muggings are relatively common, but most incidents are in cities, Harare in particular and walking about the city alone and driving at night is not recommended. Overnight stays at a reputable hotel, or an organized visit to one of the attractions in or around the city should be fine.
If you're on a packaged safari or tour group, encountering safety risks are minimal; tour operators make it their business to know the areas they travel to, so risk is kept to a minimum. Other visitors should try not to travel alone, always keep to small groups, never hitch hike or get a lift from a stranger when you are on your own. Try to keep up to date on current happenings by reading the local news.
Safety within Cities
The central areas of many larger cities such as Johannesburg, Cape Town, Harare, Victoria Falls, Livingstone, Windhoek and Maputo have a criminal element that preys on unwary tourists!
Ø Do not walk alone in apparently deserted places especially at night; wherever possible walk with a group and be aware of pickpockets and bag snatchers.
Ø When taking a taxi without a meter, always get information about the trip price up front, before you get in.
Ø Do not wear jewellery, expensive watches or display money belts or carry a lot of camera equipment, especially in the major cities.
Ø Only carry the cash you need for that day and leave the rest in the safety deposit box at your hotel, including your passport and bank cards.
Ø Keep a photocopy of the first few pages of your passport, visas and air tickets, separately from the original documents.
Ø Reading a guidebook or looking at a map on a street often attracts unwanted attention and beware of thieves posing as police officers.
Ø Don't be afraid to be firm with people who sell things on the street. An effective approach is not to look at their merchandise at all, say 'no' once or twice and ignore them after that.
Ø Without being paranoid, be sceptical of people approaching you out of a normal context especially if they have a sad story that plays on your emotions. These stories usually aren't true and, in most cases, end in asking for money.
Ø Be very careful when drawing money from an ATM. Go elsewhere if suspect people hang around and don't let anybody help you or talk with you at the ATM.
Ø Keep a handbag safely grasped under your arm and don't put it down at any point especially when having a meal or a drink.
Ø When travelling by bus don't put your bag under your seat as the person behind you can take valuables out of it and put it back without you noticing.
Ø When traveling with all your luggage and belongings keep your passport and bank cards on you; if your bags get lost or stolen, you'll still have what's most important.
Ø Always lock car doors and close windows when driving in towns and put luggage in the boot where it is not visible. If somebody wants to talk to you, open your window just enough to communicate, but not far enough to put their hand in.
Ø Do not offend or irritate police officers even if you are at the tenth road block between Harare and Bulawayo and always show respect. Police officers might try their luck getting a bribe and if so don't get aggressive, but also don't give in and stand your ground. A light attitude and a joke is a better way to see you through the inconvenience.
Ø Don't take photos of government or military buildings in Zimbabwe.
Safety on the Roads
When driving in Africa there are a few simple rules.
Ø Drive carefully and slowly (speed kills), remember animals and humans can cross the road at any time, quite often just in front of you. Always wear seat belts.
Ø Try never to drive at night, as the risks increase exponentially, vehicles may have missing headlights
Ø Stay alert as roads may be poorly maintained with pot holes or corrugations.
Ø Keep the doors and windows locked while driving in the major cities as car-jacking does occur.
Safety on Safari
Ø Always listen to your guide and when visiting wildlife areas do not walk without your guide.
Ø Do not approach any wild animals; they are dangerous
Ø Do not swim in any rivers or lakes as most have crocodiles and hippo.
Ø Never feed any animals, however inquisitive or cute they may appear to be!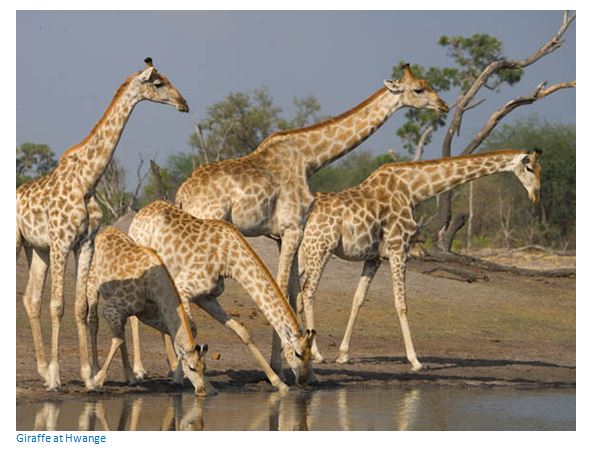 THE WEATHER AND WHEN TO VISIT ZIMBABWE
Visitors always comment on how good the weather is in Zimbabwe and there is no "right time" to visit as there are warmer and cooler seasons, most days have quite a few hours of sunshine, but there are certain seasons for special interest groups.
Ø For Victoria Falls adventure enthusiasts, white water rafting is most exciting when the Zambezi waters are low, generally from August to December, although rafting is usually cancelled when the water levels are too low or high.
Ø Best wildlife months are May to September when minimum rainfall forces the wildlife to the main watering holes and the grass is short and trees do not have as dense foliage as they would normally have in summer months.
Ø For botanical enthusiasts December - May is best when the vegetation is lush and green and also when most plants are in flower.
The lower parts of the country including the Zambezi and Limpopo valleys get generally hotter than the highveld from Bulawayo in the south east to Mutare in the Eastern Highlands. The altitude (1,500 meters at Harare) on the highveld moderates the heat and temperatures stay lower with Eastern Highland places like Nyanga, Bvumba and Mutare usually cooler than the rest of the country. Victoria Falls, Beitbridge, Bulawayo and Kariba will always be hotter than other areas due to their lower altitude (885 meters at Victoria Falls)
The two main seasons are the rainy / green season from November to May and the dry season from June to October. Most visitors going on safari will visit in August / September; those who want to see Victoria Falls when it is in full spray come in April; adrenalin-seekers wishing to go white water rafting come in September to December.
Summer includes November / December / January / February
This is when Zimbabwe gets rain, but unlike Europe the rains usually come as heavy thunderstorms with plenty of lightning and thunder, but generally don't last for more than a couple of hours. Many days will start with clear skies but as the heat builds up the storm clouds gather on the horizon, building up and getting lower and turning grey-blue, until a cold front blows in and the clouds release their moisture. Suddenly the first blast of lightening followed by a thunderclap which echoes across the sky and raindrops beat on the hard ground and everyone comments on the distinctive earthy smell which the rains bring and soon after the emerging fresh sprouts of grass and new leaves confirm that the cloying heat of October and November is finally over.
January is generally the wettest month, but even then sunrise is at 5:30am and sunset around 6:00am. Temperatures are dropping steadily from November through to January with the average daytime temperature about 26⁰ Celsius during the day to around 16⁰ at night.
March | April | May
The rains drop off dramatically and nights and mornings get generally cooler with average daytime temperature of 25⁰ Celsius and 12⁰at night.
At this time of year Victoria Falls is covered in spray as all the rainfall that fell in Zambia is now flowing down the Zambezi River which is at its annual highest level. It's impossible to go white-water rafting now with the River so high, but on the other hand it is a good time to visit Nyanga, or the Bvumba, or the Chimanimani as the forests are lush and well-watered and all our European migrant birds are here raising their young.
June | July (winter)
Even though it is now winter and dry and cool, this is a good time for game-viewing and going on safari during the day and then sitting around a campfire with a mug of coffee, or a brandy at night. Average daytime temperatures are 21⁰ Celsius with a night-time average of 7⁰ and the grass is turning from green to a straw colour.
August | September (spring)
This time is the equivalent of the European spring and it is now dry and warm with average daytime temperature of 29⁰ Celsius, and night-time average of 9⁰. It is the best time to go game-viewing, or on safari at any of Zimbabwe's National Parks such as Hwange, Mana Pools or Victoria Falls as the grass and vegetation is sparse and low and because water is now scarce the animals will be out looking for water and therefore more visible.
It is also a good time for fishing on the Zambezi River, or on Lake Kariba, or at one of Zimbabwe's many lakes as the rivers and lakes are 'cleaner' in the dry season and is the best time to visit for white water rafting at Victoria Falls as this is the low-water season on the Zambezi River. On the highveld the msasa trees now begin to turn into glorious shades of red, yellow and orange and the Eastern Highlands are particularly spectacular at this time of year.
October
October is often called 'suicide month' by residents as it is very hot, in the Zambezi Valley it can get up to 40⁰ Celsius and everything in the landscape seems to be waiting for the start of the rains. The dryness is only relieved by the first flush of new leaves which emerge and in the towns the jacaranda flowers which bring a wonderful purple to brighten up the streets. If there are surprise rains, the flowers will fall and the streets in Harare, Bulawayo, Victoria Falls.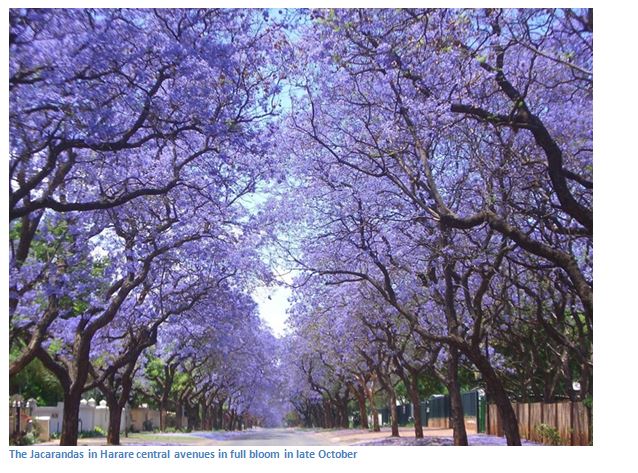 Visa Requirements
If you are staying for less than six months, you can enter Zimbabwe with a minimum of formalities although a visitor's visa is still required to enter Zimbabwe.
All categories of visitors need:-
• Passport valid for at least six months from the date of entry.
• Return ticket, or enough money to buy one.
• Sufficient funds to cover the planned stay in Zimbabwe.
• Enough blank pages in your passport to fit the required entry visa.
CATEGORY A
Countries whose nationals do NOT require a Zimbabwe Visa at their point of entry and no action is required

Antigua & Barbuda
Aruba
Bahamas
Barbados
Belize
Botswana
Cayman Islands
Congo (DRC)
Cyprus
Fiji
Ghana
Grenada
Hong Kong
Jamaica

Kenya

Kiribati

Leeward Islands
Lesotho
Malaysia
Malawi
Maldives
Malta
Mauritius
Montserrat
Mozambique
Namibia
Nauru
Samoa Western
Singapore

South Africa

Solomon Islands
St Kitts
St Lucia
St Vincent
Swaziland
Tanzania
Togo
Trinidad and Tobago
Turk & Caicos Islands
Tuvalu
Uganda
Vanuatu
Zambia
CATEGORY B
Countries whose nationals are granted a Zimbabwe Visa at port of entry on payment of requisite visa fees.

Argentina
Austria
Australia
Belgium
Bermuda
Brazil
Brunei
Canada
Czech Republic
Cook Island
Denmark
Dominic Rep
Egypt
Finland
France
Germany
Greece

Hungary
Indonesia
Iceland
Ireland
Israel
Italy
Japan
Korea (South)
Kuwait
Liechtenstein
Luxemburg
Monaco
Netherlands
New Zealand
Norway
Palau Island

Palestine

Papua New Guinea
Poland
Portugal
Puerto Rico
Russia
Seychelles
Slovak
Spain
Sweden
Switzerland
United Arab Emirates
Uruguay
United Kingdom
United States of America
Vatican
Virgin Islands
These visas are easiest obtained on your arrival at the Airport or border post. Getting them done via an agency in your home country will often cost quite a bit more and be a lot more trouble.
CATEGORY C
Countries whose nationals are required to apply for and obtain a Zimbabwe visa prior to travelling. Zimbabwe immigration has launched a website (www www.evisa.gov.zw) where Category C's can now apply online.

Afghanistan
Albania
Algeria
Andorra
Angola
Armenia
Azerbaijan
Bahrain
Bangladesh
Belarus
Benin
Bhutan
Bolivia
Bosnia-Herzegovina
Bulgaria
Burkina Faso
Burundi
Cambodia
Cameroon
Cape Verde Island
Central Africa Republic
Chad
Chile
China
Colombia
Comoros Islands
Congo (Brazzaville)
Costa Rica
Conakry
Cote d'Ivoire
Croatia

Cuba

Djibouti Rep
El Salvador
Equator
Equatorial Guinea
Eritrea
Estonia
Ethiopia
French Guiana
French Polynesia
French West Indies
Gabon
Gambia
Georgia
Gibraltar
Guam
Guatemala
Guinea
Guinea Bissau
Guyana
Haiti
Honduras
India
Iran
Iraq
Jordan
Kazakhstan
Korea (DPRK)
Kyrgyzstan
Laos
Latvia

Lebanon
Liberia
Libya
Lithuania
Macau
Madagascar
Mali
Marshall Islands
Mauritania
Mexico
Micronesia
Moldova
Mongolia
Morocco
Myanmar
Nepal
New Caledonia
Nicaragua
Niue
Niger
Nigeria
Norfolk Islands
Northern Mariana
Oman
Pakistan
Panama
Paraguay
Peru
Philippines
Principe
Qatar

Reunion
Romania
Rwanda
Samoa (America)
San Marino
Sao Tome
Saudi Arabia
Senegal
Serbia
Sierra Leone
Slovenia
Sri Lanka
Somalia
Sudan
Suriname
Syria
Taiwan
Tajikistan
Thailand
Togo
Tunisia
Turkey
Turkmenistan
Ukraine
Uzbekistan
Venezuela
Vietnam
Yemen Rep
Yugoslavia
Visitors must apply through an agency, or the Zimbabwe High Commission in your home country, or online (www www.evisa.gov.zw)
A Zambia / Zimbabwe UniVisa is now available for most Category B countries which means visitors can travel as frequently as they like between the two countries for a standard one-off fee of $50 currently saving considerable time, money and space in your passport. For those not visiting both countries a single entry visa would be cheaper.
Visitors cannot obtain a multiple entry visa at the port of entry into Zimbabwe; they may enter Zimbabwe on a single entry visa and then obtain a multiple entry visa from the town office, but this may take up to seven working days to be issued. A multiple entry visa can be obtained from the Zimbabwe Embassy in your country prior to departure for Zimbabwe.
Zimbabwe now charges a full visa fee for any individual who is required to have a visa including infants and children.
British and USA passport holders need a Zimbabwe visa to visit Zimbabwe which can be obtained from the Zimbabwe Embassy in your country, or on arrival in Zimbabwe. Most visitors find it easier and cheaper to get one at the port of entry, although it must be paid in cash as credit /debit cards or cheques are not accepted.
Visitors visa are currently being given with entry permission for up to 90 days, although visitors can apply to have this period renewed and extended if required. Latest visa costs can be found on the website (www www.evisa.gov.zw) Visitors should note that credit /debit cards or cheque are not accepted in payment of visas and should bring sufficient US Dollars with them.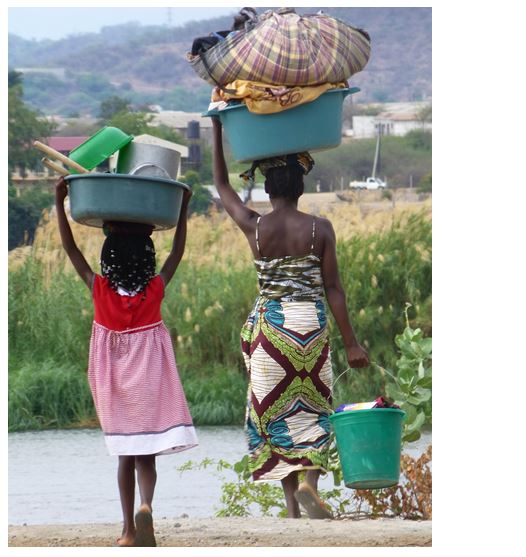 Time in Zimbabwe
Zimbabwe is two hours in the advance of Greenwich Mean Time (GMT+2) during the summer months, as well as during the winter months as the country does not operate daylight saving time.
Zimbabwe Currency
Zimbabwe's currency is the United States dollar (USD), which superceded the Zimbabwean dollar (ZWD) which as was the official currency from 1980 to 12 April 2009 when it was suspended for an indefinite period
due to a massive decrease in value. All goods and services are priced in United States dollars which are now used for all transactions in Zimbabwe; other currencies which are accepted in the main centres include the South African rand, Botswana pula, pound sterling, Indian rupee, euro and Chinese yuan.
Electric Power
The Zimbabwe voltage is 220 Volts and the plugs are the three pin square plugs as used in the UK. European and American visitors will need a voltage converter and plug adapter in order to use their appliances. A universal voltage adapter for travel will convert 220-240 to 110-120 useable by your American appliance and a universal plug adapter will allow you to plug into a foreign outlet. In some countries you may only need one or the other, but countries may require both.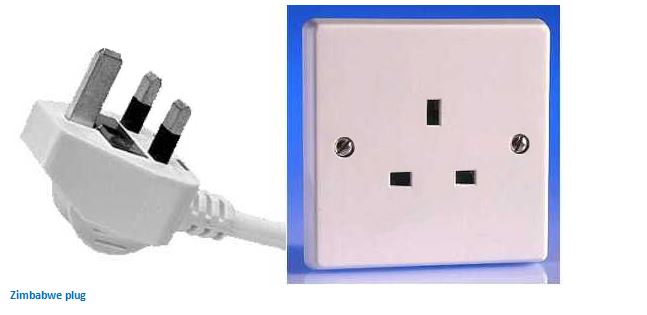 Zimbabwe's International Dialling Code
Zimbabwe's International Dialling Code is +263. Calling to Zimbabwe dial 00263, followed by an area code (e.g. 4 for Harare) for calls from Zimbabwe dial the relevant country code (e.g. +44 for the United Kingdom, or +1 for the United States of America).
| | | | | | |
| --- | --- | --- | --- | --- | --- |
| Town | Are code | Town | Are code | Town | Are code |
| Arcturus | 74 | Gutu | 30 | Mvuma | 32 |
| Banket | 66 | Gwanda | 84 | Mvurwi | 77 |
| Beatrice | 65 | Gweru | 54 | Mwenezi | 147 |
| Beitbridge | 86 | Harare | 4 | Ngundu | 36 |
| Bindura | 71 | Hauna | 28 | Nkayi | 558 |
| Binga | 15 | Headlands | 2582 | Norton | 62 |
| Birchenough | 248 | Jerera | 34 | Nyamandhlovu | 87 |
| Bulawayo | 9 | Jotsholo | 89 | Nyanga | 298 |
| Centenary | 57 | Juliasdale | 29 | Nyazura | 2583 |
| Chakari | 688 | Kadoma | 68 | Nyika | 38 |
| Chatsworth | 308 | Kariba | 61 | Odzi | 204 |
| Checheche | 317 | Karoi | 64 | Penhalonga | 205 |
| Chegutu | 53 | Kezi | 82 | Plumtree | 19 |
| Chimanimani | 26 | Kwekwe | 55 | Raffingora | 667 |
| Chinhoyi | 67 | Lalapanzi | 5483 | Rusape | 25 |
| Chipangayi | 24 | Macheke | 798 | Rutenga | 14 |
| Chipinge | 27 | Makuti | 63 | Ruwa | 73 |
| Chiredzi | 31 | Marondera | 79 | Sanyati | 687 |
| Chirundu | 637 | Mashava | 35 | Selous | 628 |
| Chitungwiza | 70 | Masvingo | 39 | Shamva | 718 |
| Chivhu | 56 | Mataga | 517 | Shangani | 50 |
| Colleen Bawn | 848 | Matopos | 838 | Shurugwi | 52 |
| Concession | 756 | Mberengwa | 518 | Trelawney | 698 |
| Darwendale | 69 | Mhangura | 60 | Triangle | 33 |
| Dete | 18 | Mount Darwin | 76 | Tsholotsho | 878 |
| Esigodini | 88 | Munyati | 557 | Turk Mine | 85 |
| Figtree | 83 | Murambinda | 21 | Victoria Falls | 13 |
| Filabusi | 17 | Murewa | 78 | Wedza | 22 |
| Glendale | 758 | Mutare | 20 | West Nicholson | 16 |
| Gokwe | 59 | Mutoku | 72 | Zvishavane | 51 |
| Guruve | 58 | Mutorashanga | 668 | | |
| | | | | | |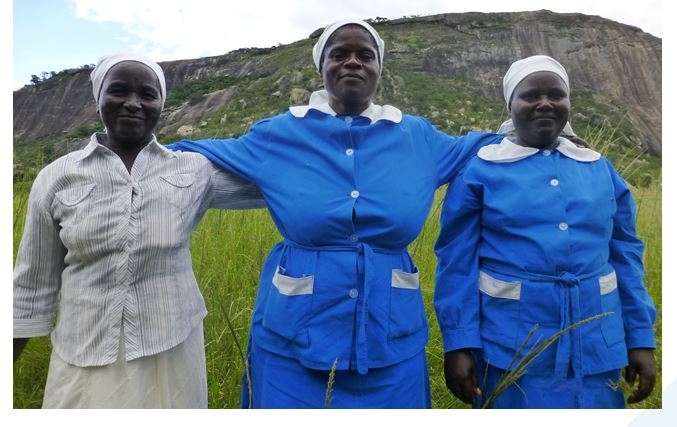 Language in Zimbabwe
English is the official language in Zimbabwe and spoken by almost everyone, even in the most remote areas, although the majority of Zimbabwe's population will also speak Shona, or Ndebele. All tourist guides will speak good quality English.
Food in Zimbabwe
Zimbabwe's safari camps and lodges serve high-quality European-style food and there is a wide-choice of restaurants including fast food outlets in the main towns if you cannot do without; food preparation and safety is generally of a good standard. In remote areas it is not possible to obtain fresh fruit and vegetables and in summer fresh produce will only keep for a few days. Soft drinks and beers can usually be purchased from local bottle stores or supermarkets.

The traditional diet of local Zimbabweans is mainly based on a corn-meal dish called sadza - which is powdered maize, mixed with water and cooked to the consistency of thick mashed potatoes. This is supplemented with relishes, or sauces, which might include beans, squash, pumpkins, yams, peanuts, kapenta (a small, dried fish) and meat, including chicken and beef.
Water in Zimbabwe
The water and wastewater infrastructure is in a serious form of disrepair and despite widespread disease outbreaks in recent years, Zimbabwe's government has done very little to improve water quality and supply. Urban centres, such as Harare and its surrounding districts, are most affected by the government's lack of interference in sewage treatment as only 40per cent of residents have access to clean and safe drinking water. For the remaining 60per cent there are few clean water options. Some are forced to buy bottled water; others use boreholes and wells although even these supplies are running low as the water table declines.
A report released by the Harare Residents Trust (HRT), states that Harare's Firle sewage plant, which pumps water back into Lake Chivero, treats only 50per cent of the sewage it receives. This means that enormous quantities of untreated sewage, containing toxins with the potential to severely compromise human health, are pumped into Lake Chivero daily. The city's water system was built to serve 367,000 people, now attempts to provide Harare's 3 million population with drinkable water and its' capacity is completely overstrained. All five sewage treatment facilities in Harare are malfunctioning and in need of repair, but Zimbabwe's broken economy has been unable to cover the $10 million cost to fix them. The government authorised the write-off of Council debt arrears as an election gimmick and the Councils have been unable to fund the $2 million a month to sanitize the water.
In 2014 the Harare City Council (HCC) was able to secure $100 million form the Development Bank of Southern Africa to improve the city's water and sewage systems and the loan is expected to significantly increase water production and to ensure that the sewage plants function at a higher capacity.
Tap water is usually safe to drink in hotels, suburbs and low-density suburbs of Harare and Bulawayo; otherwise drink only bottled water or ice that is sealed, or has been disinfected, carbonated drinks or beer and pasteurized milk.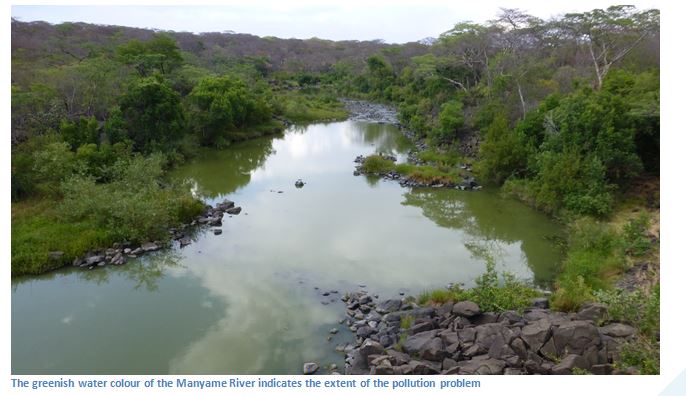 Health in Zimbabwe
Travellers to Zimbabwe need to take the potential risk to their health seriously; hepatitis B, tuberculosis, cholera and rabies vaccines are sometimes advisable, although not required; a yellow fever vaccination certificate is required from those travellers coming from areas at yellow fever risk.
Other important travel health issues include safe food and water, accidents, sun exposure and insect bites. Many of the problems experienced by travellers cannot be prevented by vaccinations and other preventive measures need to be taken.
Medicines
Most towns will have a qualified pharmacist who can dispense medicines. Make sure you take a doctor's prescription if you take regular medication as the pharmacist will most probably supply you sufficient to last your trip if you run out on holiday.
Malaria
Ninety per cent of the world's malaria cases occur in Africa and it is very common in sub-Saharan Africa and taking malaria precautions are essential. Avoid mosquito bites by covering up with clothing such as long sleeves and long trousers especially after sunset, using insect repellents on exposed skin and, when necessary, sleeping under a mosquito net. Malaria occurs in the areas below 1,200 metres including the Victoria Falls, the Zambezi Valley and Hwange National Park, so you should take precautions when going there. The highest risk of infection is in the rainy season from November to April. The risk of getting malaria is negligible in Harare and Bulawayo
How do you get malaria?
Humans get malaria from the bite of a malaria-infected mosquito. When a mosquito bites an infected person, it ingests microscopic malaria parasites found in the person's blood. The malaria parasite must grow in the mosquito for a week or more before infection can be passed to another person. If after a week, the mosquito then bites another person, the parasites go from the mosquito's mouth into the person's blood. The parasites then travel to the person's liver, enter the liver's cells, grow and multiply. During this time when the parasites are in the liver, the person has not yet felt sick. The parasites leave the liver and enter red blood cells; this may take as little as eight days or as many as several months. Once inside the red blood cells, the parasites grow and multiply. The red blood cells burst, freeing the parasites to attack other red blood cells. Toxins from the parasite are also released into the blood, making the person feel sick. If a mosquito bites this person while the parasites are in his or her blood, it will ingest the tiny parasites. After a week or more, the mosquito can infect another person.
What are the signs and symptoms of malaria?
Symptoms of malaria include fever and flu-like illness, including shaking chills, headache, muscle aches, and tiredness. Nausea, vomiting, and diarrhoea may also occur. Malaria may cause anaemia and jaundice (yellow colouring of the skin and eyes) because of the loss of red blood cells.
How soon will a person feel sick after being bitten by an infected mosquito?
For most people, symptoms begin ten days to four weeks after infection, although a person may feel ill as early as eight days, or up to one year later. Two kinds of malaria, P. vivax and P. ovale, can relapse; some parasites can rest in the liver for several months up to four years after a person is bitten by an infected mosquito. When these parasites come out of hibernation and begin invading red blood cells, the person then will become sick.
How is malaria diagnosed?
Malaria is diagnosed by looking for the parasites in a drop of blood. Blood will be put onto a microscope slide and stained so that the parasites will be visible under a microscope. Any traveller who becomes ill with a fever or flu-like illness while traveling and up to one year after returning home should immediately seek professional medical care. You should tell your health care provider that you have been traveling in a malaria-risk area.
What is the treatment for malaria?
Malaria can be cured with prescription drugs. The type of drugs and length of treatment depend on which kind of malaria is diagnosed, where the patient was infected, the age of the patient, and how severely ill the patient was at start of treatment.
How can malaria and other travel-related illnesses be prevented?
Ø Visit your health care provider 4-6 weeks before foreign travel for any necessary vaccinations and a prescription for an antimalarial drug.
Ø Check with your doctor or nurse about suitable antimalarial tablets.
Ø Atovaquone / Proguanil or Doxycycline or Mefloquine is usually recommended for those visiting risk areas during the transmission season. Chloroquine resistance is widespread in Africa.
Ø Take your antimalarial drug exactly on schedule without missing doses.
Ø Prevent mosquito and other insect bites. Use DEET insect repellent on exposed skin and flying insect spray in the room where you sleep.
Ø Wear long pants and long-sleeved shirts, especially from dusk to dawn as this is the time when mosquitoes that spread malaria bite.
Ø Sleep under a mosquito net that has been dipped in permethrin insecticide if you are not living in screened or air-conditioned housing
HIV and AIDS
HIV infection rates are high; AIDS is widespread in Zimbabwe and has caused many deaths in the past. Usually, this isn't an issue for travellers, but they should be aware of this situation, and take sensible precautions to avoid infection. Blood supplies used by Zimbabwe's private hospitals are carefully screened for AIDS.
Bilharzia or Schistosomiasis
The disease is most commonly found in Africa, as well as Asia and South America and is second only to malaria, as a parasitic disease with the greatest economic impact. It is endemic throughout Zimbabwe, except in the Eastern Highlands where the cool water temperatures are not tolerated by the bilharzia carrying snail. Infection occurs by contact with water in rivers or dams.
How do you get bilharzia?
The parasite enters humans through the skin and prevention depends on avoiding swimming, bathing or paddling in all rivers and lakes in Zimbabwe, except in the colder areas of the Eastern highlands. Avoid swimming in fresh water (ponds, lakes and rivers) and only swim in chlorinated swimming pools.
Bilharzia is caused by a parasite that lives in water and infects humans by dissolving human skin with a glandular secretion and entering the skin and does not need a cut or opening in their skin to be infected. The parasite then moves around the body via the bloodstream and develops into a two centimetre worm. These worms live in pairs in the abdomen, mating in the liver and moving down into the bladder, or bowel where the female deposits her eggs.
The eggs leave the body in urine, or faeces, and burst on contact with water, releasing a small embryo. The embryo swims by means of minute hairs on its body, until it finds a certain variety of water snail which it enters and settles in the liver. Six months later, the parasite emerges into the water ready to infect any human and the cycle begins again.
What are the signs and symptoms of bilharzia?
Symptoms can develop a few weeks after someone is infected by the parasite and include flu-like symptoms, such as a high temperature above 38⁰ Celsius (100.4ºF) and muscle aches, a skin rash, or a cough.
Alternatively, more serious symptoms can develop months – and possibly years – after infection, and include
cystitis, bloody diarrhoea, abdominal pain or cramps, vomiting blood and paralysis of the legs.
What is the treatment for bilharzia?
If diagnosed and treated promptly, it can usually be successfully treated with a medication called Praziquantel which kills the adult worms, which will be broken down by the body.
How do you prevent bilharzia?
Always boil or filter water using a travel kettle, or a portable water filter before drinking it to kill any harmful parasites, bacteria and viruses. If you have to cross a river, or go into a lake; aim for clear patches of water with no vegetation and dry yourself as soon as you get out. Try to cross rivers upstream from villages and wear waterproof shoes if possible. Visitors should not rely on assurances from hotels or lodges that a particular stretch of water is safe. There have been reports of these organisations downplaying the risks of exposure when in fact the risk was very high.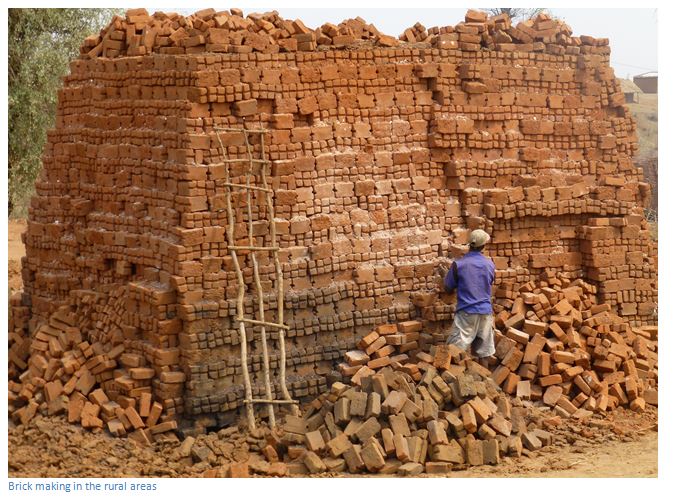 The most practical items to pack and bring with you
Clothing
Most of the year Zimbabwe is a warm destination and most people make the mistake of taking along too much clothing. Take along comfortable, casual and semi-casual, "wash and wear" clothes. Bright colours and white are not suitable for game viewing and avoid camouflage clothing which is banned for civilians in Zimbabwe. Please dress appropriately when crossing borders, no bare feet, bare chests, bikini tops, or when visiting markets, villages or towns.
Ø light cotton tops and cotton trousers / shorts in summer, hat / cap and swimming costume.
Ø Long-sleeved blouses / shirts for game drives / boat cruises to protect you from mosquitoes and the sun.
Ø Safari trousers, jeans or casual pants for evenings and cooler days with a fleece or sweater for those cool winter evening and mornings.
Ø A hat, sunglasses and sunscreen with a high factor sunscreen for your face, neck, feet and hands.
Ø Comfortable walking shoes, sandals or rafters for white water rafting or canoeing.
Ø Extra camera memory cards and batteries as these are difficult to find in Zimbabwe and expensive.
Luggage
Space in safari vehicle is limited and luggage is often restricted to:
Ø A bag not exceeding 12 kilograms and 65cm x 46cm. Personal effects are often better in an inexpensive barrel / sausage bag available from discount stores, hypermarkets and sports shops.
Ø A sleeping bag & small pillow.
Ø A small airline type handbag, or daypack containing money, travel documents and camera equipment which is kept inside the vehicle at the passenger's feet.
Ø A waist pouch or money belt.
Ø Take old or inexpensive luggage, remember suitcases are unsuitable for most safaris and a small / medium-sized rucksack is preferable.
Ø Excess luggage will often not be loaded and need to be stored at the passengers' cost.
Ø To avoid losing luggage in transit take medication and toiletries and valuables with you on the plane.
Personal effects
The following are recommended:
A one litre water bottle, a torch + batteries, a roll toilet paper, bath soap, toothbrush and paste, shampoo & hair conditioner, deodorant, comb / hair brush, nail brush, razor & blades, suntan lotion/ sunblock, lip balm, hand cream & moisturising cream, insect repellent, wet tissues, plastic bag to pack wet / dirty clothing, sunglasses, spectacles if worn as some people have trouble with contact lenses & dust, a pen for immigration formalities, note book, a multi-purpose knife packed in your main luggage.
Personal medical kit
Suggestions include:
Plasters, aspirins / paracetamol, anti-diarrhoea pills and laxatives, throat lozenges, antiseptic cream, insect bite cream, eye drops, anti-malaria tablets (refer MALARIA section) any other prescription medicines & toiletries you regularly use

Field Guides
Take one of the many Birds of Southern Africa and a Guide to Mammals of Southern Africa available in most good bookshops or online.
Camera and Binoculars
For photography of birds and animals a 300mm telephoto lens is recommended. Remember not take photographs of border posts or military / police posts as this can lead to an unpleasant incident and even arrest. In most parts of Africa it is considered respectful to first ask permission from local people before taking a photograph. A pair 8x30mm of binoculars is really essential to benefit fully from the safari.
Driving Licence
Anyone with an English language licence containing a photograph can use it in Zimbabwe for up to 90 days. For non-English language licenses, apply for an International Driving Permit from your local AA.
Transport in Zimbabwe
Self-driving often gives more independence and flexibility and is a good way to explore the country, see the wildlife and visit the National Parks. A 4x4 is only obligatory in the rainy season, but vehicles should have high clearance.
General driving information
Driving is on the left-hand side of the road (UK system) and at roundabouts and at give way signs drivers must give way to traffic coming from the right and to vehicles already circulation on the roundabout. Wearing seat belts is compulsory for front seat occupants of a vehicle.
Zimbabwe inherited the best road infrastructure in Africa, but it soon became quite dilapidated with the economic collapse of 2008. Since the introduction of tolls a lot of road construction has taken place to improve the country's national roads which are now in pretty good shape compared to other African countries. This means that driving between cities on all the national roads is fairly safe; the roads between Victoria Falls and Bulawayo, Bulawayo and Masvingo (Great Zimbabwe) Bulawayo and Harare and Masvingo and Mutare are all in excellent condition. Only the A4 between Harare and Beit Bridge has still to be widened and upgraded and carries a lot of slow heavy Lorries. Travelling at night is never advised as there are no fences along the highways meaning outside the cities livestock including cattle, donkeys, goats and dogs can wander onto the roads outside and many vehicles have poor and badly adjusted headlamps. From November to March during the rainy season potholes are a very common occurrence and are a serious threat to any vehicle that is travelling too fast.
There are always plenty of police blocks outside cities, perhaps as many as ten between Harare and Bulawayo and they may involve delays, but keep your cool. They are usually uneventful and in a modern vehicle which has paid up road and radio licences you will probably be waved through, or asked to show your licence and your Temporary Import Permit (TIP). Police will fine you if you do not have adhesive reflectors on your car, red hazard triangles in your boot, a spare tyre, and a fire extinguisher: these items are listed below. Pity the kombi and mini-bus drivers who are inevitably pulled over. Roadblocks manned by less than three policemen are illegal and maybe a scam.
Speed traps are common so keep your eyes peeled for speed limit signs which you should obey to avoid fines. In general, keep under 60 km / h when you get close to towns and cities and 120 km / h in unrestricted zones on national roads.
In town if you hear sirens, or see motorbikes and other vehicles with flashing lights, pull off the road immediately and as far on to the grass as possible as they signal that the president's cavalcade with armed troops is coming past.
In towns quite often the lights at road junctions are not working. Put your flasher lights on and proceed cautiously when the road is clear. No need to panic as Zimbabwean drivers are used to this occurrence and an unwritten form of etiquette has developed.
Be cautious of bag snatchers at traffic lights especially at night; keep doors locked and windows up, handbags under car seats and all suitcases locked in the boot.
Fuel prices are generally cheaper in Harare, but will vary around the country. All fuel is imported which makes it more expensive than many neighbouring countries. Distances are quite long between towns and drivers should always try to keep the tank above the halfway mark just to be on the safe side. Note that almost no gas stations in Zimbabwe currently take credit cards and all payments are in cash.
A map book is very useful, or use Tracks4Africa for online GPS maps.
Bringing a car over the border into Zimbabwe requires:
Ø Valid passport of the driver.
Ø Vehicle registration book in the name of the driver.
Ø Letter of authority from the registered owner if the vehicle is not owned by the driver.
Ø Temporary exportation document from the Customs authorities in the country from where the visitor is coming from.
Ø A fire extinguisher, warning triangles, a serviceable spare wheel and an efficient jack and a wheel spanner within the car. Two white reflex reflectors are required on each side of the front bumper and two red reflex reflectors on each side of the rear bumper. The first police roadblock from the border will notice if these are missing and fine you.
Ø At the border, you will get a small piece of stamped paper at the entrance, called a Gate Pass.
At the Customs (Zimra) counter, complete a form called "Temporary Import Permit" (TIP) for the vehicle. This is free.
Ø Pay Carbon Tax which is payable in US$, Euro, Rand or Pula. The fees differ depending on the engine capacity of the car, but vary between US $6 and $30.
Ø Pay Road Access Fee, around US $10. Here's a link to the Zimra website showing Road Access Fees.
Ø 4x4's pay for a CVG (Commercial Vehicle Guarantee), around US$ 50
Ø Road toll fees will also be payable (about US$10 between Harare and Bulawayo)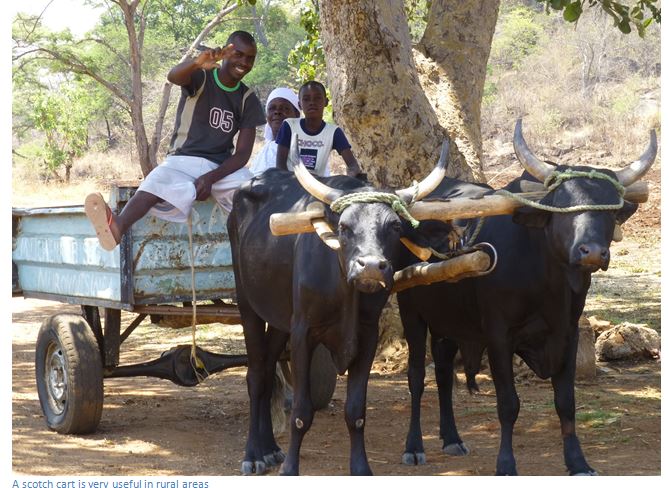 Car Hire
If you are looking for a tour of Zimbabwe without having to stick to a planned itinerary, then a self-drive safari might be the answer. In this way, you will be able to discover the country and its attractions with the freedom of doing so at your own pace.
Most of the international car hire companies are represented in Zimbabwe including Avis, Europcar, Impala, LED, , Luckybean, Rockshade, Safari4x4 hire and offer pick-up / drop-off at either Harare International Airport, or Bulawayo or Victoria falls.
Rental requirement are a valid international drivers' licence or an English language licence and a valid credit card. South African driver's licences are recognized within the whole of the SADC region.
The car hire rentals generally includes unlimited kilometres, tourism levy, airport surcharge, personal accident insurance, standard collision damage waiver (CDW), standard theft loss waiver (TLW), value added tax, delivery and collection within a 30 kilometre radius
Car hire rentals usually exclude fuel, refundable deposit, additional driver fee, one way rental fees, delivery and collection fee (outside of 30kilometres), traffic fine handling fee, cross border fees, tyre, rim and hubcap damage, claim administration fee in the event of damage and / or theft, water and under-carriage damage.
Getting around by plane
In the past many more airlines flew direct to Zimbabwe including KLM and British Airways and if the economic situation improves again they may well re-instate those direct flights.
Airlines

Destinations from Harare international

Lusaka, Windhoek

Bulawayo, Johannesburg-OR Tambo, Victoria Falls, Kariba

Dubai-International, Lusaka

Addis Ababa, Lusaka

Dar es Salaam

Flyafrica

Lusaka, Nairobi-Jomo Kenyatta

Maputo, Beira

Lilongwe, Blantyre, Tete
Only the first stopover is listed above so for passengers flying to London they would stopover in Lusaka before flying to Dubai and then London. Most international airlines fly to Johannesburg, so for many international travellers this is the preferred route.
Between 1999 and 2010 almost all of the major airlines originally plying the Harare route had left and at the same time the city suffered the negative stereotype of being the capital city of a country that was no longer perceived by the bulk of the international community as a good place to travel to. This perception is changing rapidly as Harare and its surrounds are seen as one of Africa's best and most vibrant cities to spend time in. Emirates, KLM, Ethiopian, Egypt Air (from 01 June 2013) and Kenyan Airways all fly regularly into Harare, linking southern Africa's 'Sunshine City' through their own airport hubs to virtually every corner of the globe.
Many people now consider flying long-haul into Harare is a good option and increasingly the airlines that left are re-establishing their flights into Harare which means visitors can now cut out first having to go through Johannesburg in South Africa, which had become the only reliable route into the region. This will reduce the long haul flight time and increase access to the bulk of the region's finest luxury safari and adventure destinations as Air Zimbabwe is operating daily domestic flights from Harare to Bulawayo and Victoria Falls. Bumi Air operates scheduled light aircraft flights between Harare, Victoria Falls and the Bumi Hills air strip and Safari Logistics and Alt Air also operate light aircraft on a variety of domestic routes on a 'pay-per-seat' or scheduled basis around the country.
By bus
There are two types of local buses: express and local. Regular express bus services operate according to published timetables from Johannesburg to Harare and Bulawayo and several bus companies also operate direct buses to Blantyre, Malawi and between Harare and Bulawayo. There is no public transport from Victoria Falls to Botswana, but taxi will take travellers to the border and some hotels in Vic Falls can arrange transfers. These connections are frequent, their timetables can be relied upon and their fares are still comparatively reasonable. They are the fastest and most reliable form of travel between major cities and as local incomes increase more services are becoming available.
Local buses normally depart when full from township markets outside the centre of a town. These are old public buses, often enveloped in a black cloud of diesel exhaust fumes that stop at every intersection and carry almost everything from wheelbarrows to sofas. They are often the only affordable way for local people and the only means of transportation available in rural areas. Travel if you would like the experience and you will be received with friendly smiles and politeness as always and everywhere in Zimbabwe but they are not usually that roadworthy and very often extremely late due to frequent breakdowns.

Minibus taxis are available for intra-city transport, and are relatively inexpensive by European standards and they provide a cheap, though a not necessarily safe or very comfortable way of seeing the true Zimbabwe.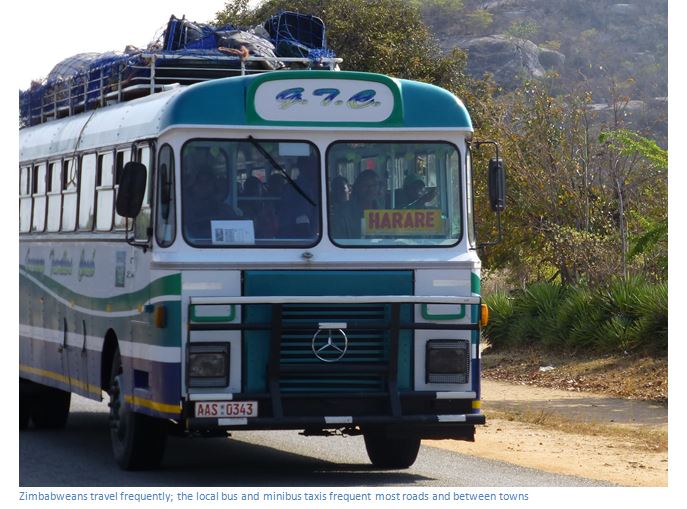 By train
Zimbabwe's railway network connects Harare, Bulawayo, Mutare and Victoria Falls. Trains are very slow; they are in desperate need of servicing and parts and the only train journey worth considering is between Bulawayo to the Victoria Falls which passes through Hwange National Park, one of the biggest in Africa.
Game Resorts and Wildlife Lodges

Chundu Island

Matabeland North

Victoria Falls

Matabeland North

Victoria Falls

Matabeland North

Victoria Falls

Lokuthula Lodges

Matabeland North

Victoria Falls

Old Ursula Camp

Matabeland North

Victoria Falls

Matabeland North

Victoria Falls

Stanley & Livingstone Safari Lodge

Matabeland North

Victoria Falls

The Elephant Camp

Matabeland North

Victoria Falls

Victoria Falls River Lodge

Matabeland North

Victoria Falls

Matabeland North

Victoria Falls

Zambezi Sands River Camp

Matabeland North

Victoria Falls

Matabeland North

Hwange Nat Park

Matabeland North

Hwange Nat Park

Camp Hwange

Matabeland North

Hwange Nat Park

Davison's Camp

Matabeland North

Hwange Nat Park

Elephant's Eye

Matabeland North

Hwange Nat Park

Matabeland North

Hwange Nat Park

Little Makalolo

Matabeland North

Hwange Nat Park

Miombo Safari Camp

Matabeland North

Hwange Nat Park

Nehimba Safari Lodge

Matabeland North

Hwange Nat Park

Sable Sands

Matabeland North

Hwange Nat Park

Matabeland North

Hwange Nat Park

Matabeland North

Hwange Nat Park

The Hide Safari Camp

Matabeland North

Hwange Nat Park

Masumu Lodge

Matabeland North

Binga

Chizarira Wilderness lodge

Matabeland North

Chizarira National Park

Big Cave Camp

Matabeland South

Matobo

Camp Amalinda

Matabeland South

Matobo

Farmhouse Lodge

Matabeland South

Matobo

Hermits Peak Guest Lodge

Matabeland South

Matobo

Matobo Hills Lodge

Matabeland South

Matobo

Rowallan Camp

Matabeland South

Matobo

Changa Safari Camp

Mashonaland West

Matusadona

Mashonaland West

Matusadona

Mashonaland West

Matusadona

Charara Camp

Mashonaland West

Charara Safari Area

Mashonaland West

Kariba

Mashonaland West

Kariba

Mashonaland West

Kariba

Mashonaland West

Kariba

Mashonaland West

Kariba

Warthogs Bush camp

warthogs.co.zw

Mashonaland West

Kariba

Mashonaland West

Chirundu

Nyamoumba Fishing and Birding Lodge

Mashonaland West

Chirundu

Mashonaland West

Chirundu

Mashonaland West

Mana Pools

Mashonaland West

Mana Pools

Mashonaland West

Mana Pools

Mashonaland West

Mana Pools

Mashonaland West

Mana Pools

Mashonaland West

Mana Pools

Kavinga Safari Camp

Mashonaland West

Mana Pools

Mashonaland West

Mana Pools

Mashonaland West

Mana Pools

Mashonaland West

Mana Pools

Tailormade Safaris

Mashonaland West

Mana Pools

Vundu Camp

Mashonaland West

Mana Pools

Mashonaland West

Mana Pools

Tafika and Shamashanga

Mashonaland West

Sapi Safari Area

Mashonaland West

Chewore Safari Area

Mashonaland West

Chewore Safari Area

Varden Safaris

Antelope Park

Midlands

Gweru

Kuduland River Lodge

Masvingo

Beit Bridge

Masvingo

Gonarezhou

Gonarezhou Bush Camps

Masvingo

Gonarezhou

Norma Jeans Lake View Resort

Masvingo

Masvingo

Hippo Creek Lodge

Masvingo

Masvingo

Mkwasine Safari Camp

Masvingo

Savé Valley Conservancy

Masvingo

Savé Valley Conservancy

Masvingo

Savé Valley Conservancy

Masvingo

Savé Valley Conservancy

Senuko Safari Lodge

Masvingo

Savé Valley Conservancy

Singita Pamushana Lodge

Masvingo

Savé Valley Conservancy

Sable Lodge

Mashonaland East

Marondera

Aberfoyle Lodge

Manicaland

Nyanga National Park

Far and Wide

Manicaland

Nyanga National Park

La Rochelle Country House

Manicaland

Penhalonga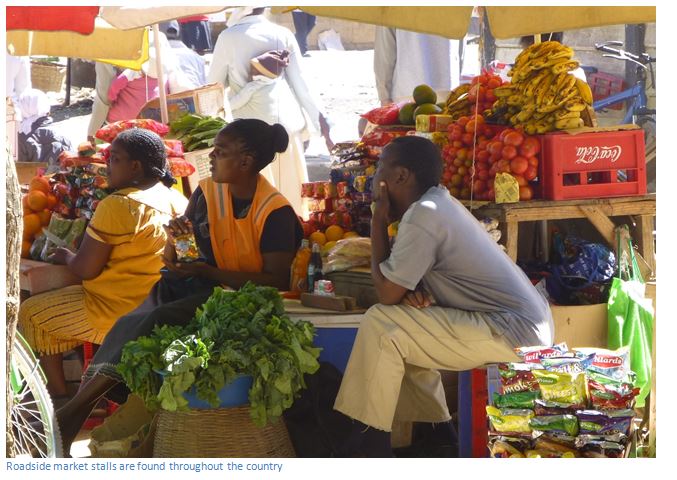 Harare Restaurants
| | | | | | | |
| --- | --- | --- | --- | --- | --- | --- |
| Harare Restaurants | Address | Contact details | Opening times | Details | Wireless Internet | Type |
| ALO ALO | 10 Forest Row, Arundel Village | 04-369198, 0773265932 | Mon - Sun | 'Home away from home' meals. | YES | E |
| ARNALDO'S | 7 Bessemer Rd, Graniteside | 04-773877, 0772238306 | Mon - Fri | Portuguese-style. Lunch only. | YES | E |
| BAVARIAN RESTAURANT & BAR | 116 Baines Avenue, cnr 3rd and Baines | 04-252362. 793877 | Mon - Sun | | | E |
| BUTLERS | Newlands Shopping Centre | 0776 270702, 0773 734112 | Mon - Sun | Family restaurant. | | E |
| CASABLANCA | 15 Connaught Ave, Kensington | 0779 992999 | Mon - Sun | Great Chinese food | | E |
| DA EROS | 86 East Road, Belgravia | 04-332044 0772 191135 | Tues - Sun | Italian restaurant, pizza and pasta. | | E |
| DELI PALACE | Greystone Park Shopping Centre | 04-883178 /0778 464 393 | Tues - Sun | Authentic Indian cuisine. | | E |
| EVE'S GARDEN | 5 Hurworth Road, Highlands | 04-497888 | Mon - Fri | Garden setting, healthy food. | YES | E |
| GIULIANA'S RESTAURANT | Rumbavu Park, Enterprise Road | 0772 363292 | Tues - Sun | | | E |
| GLOBE TROTTER | Lot 1, Good Hope, old Mazoe Road | | Mon - Sun | | | E |
| GREAT WALL | 94 East Road, Belgravia | 04-334149 / 0712 616282 | Mon - Sun | Chinese food restaurant. | | E |
| MOJOS | 10 East Road, Avondale | 04-705993, 761639 | Mon - Sat | Brazilian themed restaurant | YES | E |
| PAGOKORO | 48 Ridgeway South, Highlands | 04-497240/247 | Mon - Sat | Good African cuisine and specials. | | E |
| PAULA'S PLACE | 314 Samora Machel Avenue | 04-497950 | Mon - Sun | Portuguese food speciality | | E |
| PICOBELLO | 47 Glenara Avenue, Runiville | 0733 436 191 | Mon - Sun | Popular for its wood fired pizza. | YES | E |
| SHANGRI-LA | 155 Enterprise Road | 04-443263/4, 0733 415857 | Tues - Sun | Chinese restaurant | YES | E |
| THE MILL | Ballantyne Shopping Centre | 04-882747 | Mon - Sun | Easy Bar Menu and Main Menu. | | E |
| THE POINTE | 3rd Street, Avenues | 04-703095, 734240 | Mon - Sun | Portuguese restaurant. | YES | E |
| THE SITAR | 2 Cecil Rhodes Drive, Newlands | 04-746215, 0712 616562 | Wed - Mon | authentic Indian cuisine. | YES | E |
| THE TANDOOR | Huntsview Road, Sunrise Sports Club | 04-785928 / 0778 263667 | Mon - Sun | | | E |
| UTANO | 30 Bath Road, Avondale | 04-764347 | Tues - Sun | Spicy Mexican cuisine | | E |
| WING WAH INTERNATIONAL | 84 Glenara Avenue, Highlands | 0773 967999 | Mon - Sun | | | E |
| ANTIQUE ROSE | 72 Golden Stairs Nursery | 0712 217 057 | Tues - Sun | Light snacks, teas and pastries. | | EC |
| CAFÉ XPRESSO | Bond Street Shopping Complex, Mount Pleasant | 04-304600 / 304819 | Mon - Fri | | YES | EC |
| CEE CEE'S | Shop 116, City & Sam Levy's | 04-777662/3 | Mon - Sun | Coffee with a fresh muffin or other treats. | | EC |
| CONNECTIONS | 162 Swan Dr, Celebration Centre | 04- 850880/88 | Mon - Sun | Cafe style bistro | YES | EC |
| FRESHLY GROUND | Avondale Shopping Centre | 0774 502963, 0772 688823 | Mon - Sun | Popular Coffee Spot. | YES | EC |
| HARVEST GARDEN | Rainbow Towers | 04-772633 | Mon - Sun | | YES | EC |
| HOUSE OF SACH GARDEN CAFÉ | 4 Fletcher Road, Arundel, Mt Pleasant | 0772 754792 | Mon - Sat | | | EC |
| JACK SPRATS COFFEE SHOP | 61 Prices Ave, Emerald Hill | 0772 263970 | Mon - Sat | Simple Cafe Food in gardens | YES | EC |
| KINGFISHER ANIMAL FARM | 61 Prices Ave, Emerald Hill | 0772 263970 | Mon - Sat | Breakfasts and light lunches. | | EC |
| LE JARDIN | Intermarket Life Towers | 0733 563797 | Mon - Fri | | | EC |
| LITTLE BEARS CAFE | 16 Kew Drive, Highlands | 0773 782 968 | Mon - Fri | Light meals with tea or coffee. | | EC |
| LUCULLUS CAFÉ | Athienitis Spar, Fife Avenue | 04-704228 / 703621 | Mon - Sun | | YES | EC |
| MUKUVISI COFFEE SHOP | Mukuvisi Woodlands | 0772 613 023 | Mon - Sun | Light meals or tea or coffee | YES | EC |
| NOAH'S PARK | Umwindsidale Road | 0772 357189 | Mon - Sun | | | EC |
| ROSE COURTYARD | Newlands Shopping centre | 0779 530 254 | Mon - Sat | | | EC |
| SPRING FEVER CAFÉ | 2 Rowland Square, Milton Park | 0772 711985 | Mon - Sun | | | EC |
| THE CORNER | Arundel Spar | 04-369669 / 72 | Mon - Sun | | | EC |
| THE COTTAGE | 8 Coltman Road, Mt Pleasant | 0772 355514 | Mon - Sat | | | EC |
| THE PLOT CAFÉ | 9 Carrick Greach Rd, Quinnington | 04-2930531 / 0776 638585 | Mon - Sun | Cafe Food. | YES | EC |
| THE TEA SHOP | 78 The Chase, Mt. Pleasant | 0772 738196 | Mon - Sun | Specialising in teas. | | EC |
| THEOS HOUSE OF COFFEES | 167 Enterprise Road | 0772 881877 | Mon - Sun | | YES | EC |
| UPPER CRUST | 1st Floor, Batanai Gardens, CBD | 04-751339 | Mon - Sat | Classic and Continental cafe menu. | | EC |
| VALI'S BAKERY CAFÉ | Kensington Shops | 04-706857 | Mon - Sat | Coffee and light snacks & Bakery | YES | EC |
| VANILLA MOON | 8 Seagrave Road, Avondale | 04-333394 | Mon - Sat | Wide variety of classic cafe meals. | YES | EC |
| ADRIENNE'S | Fairways Building, 2nd St Ext, Belgravia | 04-335602, 0772 742326 | Mon - Sun | Continental restaurant | YES | F |
| APPLE GEES | Sanlam Centre, Newlands | 04-252279/80 | Mon - Sat | Modern cafe menu | YES | F |
| ARTSKY RESTURANT | 68 Enterprise Road, Highlands | 0712 413640 | Mon - Fri | | | F |
| BANNIES | Cnr 2nd St /J Nyerere | 04-251450 | Mon - Sat | Offering simple Continental menu | YES | F |
| BUTCHERS KITCHEN | Sam Levy's Village, Borrowdale | 04-884445 | Mon - Sat | | | F |
| CARRIAGE HALT RESTAURANT | 117 King George Road, Avondale | 04-303394 / 0778 842403 | Tues - Sun | | | F |
| CHATTERS | Cresta Lodge | 04-487006, 486214 | Mon - Sun | Pub grub and casual setting. | YES | F |
| COIMBRA | 61 Selous Avenue | 04-700237 / 0772 782201 | Tues - Sun | Portuguese cuisine. | | F |
| DV8 | Kamfinsa Shopping Centre | 04-497477, 497773 | Mon - Sat | Lunch and dinner. | YES | F |
| ELCOMBE'S RESTAURANT | 114 Seke Road, Graniteside | 0777 466942 | Mon - Fri | | | F |
| ENDAWENI - THE PLACE | 20 Maasdorp Avenue, Alex Park | 864 405 1561 / 864 405 1517 | Mon - Sat | | | F |
| FISHMONGER | 50 East Rd, Avondale | 04-308164, 302285 | Mon - Sun | Seafood restaurant in a converted house. | | F |
| GABY'S | Travel Plaza, Mazowe St | 04-700094 / 0773 393944 | Mon - Sat | Cafe and Continental food | | F |
| GECKO GARDENS | Ard-na-lea Close, Glen Lorne | 04-494612/71 | Mon - Sun | Continental menu in a Lodge environment. | | F |
| KOMBAHARI | Rainbow Towers Ho | 04-772633 | Mon - Sat | Various dishes | YES | F |
| LEONARDO'S | Sam Levy's Village | 04-883158, 0772 247990 | Mon - Sat | Italian restaurant with many dishes. | | F |
| L'OR DE VIE | Newlands Shopping centre | 04-252269 / 0779 878645 | Tues - Sun | | | F |
| MILLERS CAFÉ | Sam Levy's Village | 04-853137 / 0712 218449 | Mon - Sun | Pizza, burgers, steaks, salads. | YES | F |
| PANGOLIN LODGE | 54 Carrick Creagh Rd | 04-861338 | Mon - Sun | | | F |
| PARK VIEW | Crowne Plaza | 04-850294 | Mon - Sun | | | F |
| PEPPERS | 147 The Chase, Mount Pleasant | 0772 276 319 | Mon - Sun | Mediterranean style | YES | F |
| SANDAWANA | Jameson Ho | 04-774106 | Mon - Sun | | | F |
| SILVER SPUR | Holiday Inn, Samora Machel Ave | 04-885005 / 0779 182153 | Mon - Sun | Steakhouse | | F |
| ST ELMO'S | Avondale Shopping Centre | 04-334980 / 0772 241722 | Mon - Sun | Famous for their pizzas! | | F |
| STEAK OUT | Avondale Shopping Centre | 0714 885005, 0779 182153 | Mon - Sun | Halal butcher with a restaurant. | YES | F |
| THE BUTCHER'S KITCHEN | Sam Levy's Village | 04-884445, 884573 | Mon - Sun | Butchery, Deli and Grill House. | YES | F |
| THE CIRCLE | Sam Levy's Village (by TM) Borrowdale | 0772 572816 0775 608007 | Mon - Sun | | | F |
| THE PALMS RESTAURANT | Bronte Ho, 132 Baines Avenue | 04-707522-7 | Mon - Sat | | | F |
| TINKERBELL | Ardbennie | 04-661697 | Mon - Sun | | | F |
| AMANZI | 158 Enterprise Road, Highlands | 04-497768. 0772 336 224 | Mon - Sat | Serving fusion cuisine and popular tapas. | YES | L |
| ARTI'S | Shop 20, Sam Levy's Village | 0771 564463 | Tues - Sun | Mediterranean. | | L |
| EMMANUEL'S | 132 Baines Ave, Avenues | 04-707522/7 | Mon - Sat | Serving Continental and European dishes. | YES | L |
| IMBA MATOMBO | 3 Albert Glen Close, Glen Lorne | 0712 403530, 0774 514235 | Mon - Sun | Buffets, breakfasts and meals all day. | YES | L |
| KOMBAHARI | Rainbow Towers | 04-772633 | Mon - Sun | | | L |
| LA FONTAINE | Meikles Ho, Jason Moyo Avenue | 04-251705 | Mon - Sat | Elegant and sophisticated dining | | L |
| L'ESCARGOT | Courteney Ho | 04-704409 | Mon - Sun | | | L |
| MONOS | Crowne Plaza Ho, City Centre | 04-704501/30 | Mon - Sat | Steaks, grills, healthy eating and seafood.
 | | L |
| THE BAGALE | The Meikles Ho, Jason Moyo Avenue | 04-251705 | Mon - Sun | Elegant and sophisticated dining | | L |
| VICTORIA 22 | 22 Victoria Ave, Newlands | 04-776429 | Mon - Sat | Italian-style fine dining restaurant | YES | L |
| WILD GEESE LODGE | 2 Buckland Lane, Pomona | 04-2917977 / 0772 145103 | Mon - Sun | Casual classic meals | YES | L |
| 360 DEGREES BAR & GRILL | New Block, Sam levy's Village | 04-853314 / 0779 713317 | Mon - Sun | | | P |
| BLUE@2 WINE BAR | 2 Aberdeen Road, Avondale | 04-333192 / 0772 308 258 | Tues - Fri | Wine bar. | | P |
| EXPLORERS BAR | Meikles Ho, Jason Moyo Avenue | 04-707721 | Mon - Sun | Pub Grub Menu and specials. | | P |
| GAZEBO COCKTAIL BAR | Crowne Plaza | 04-704501 | Mon - Sun | | | P |
| MEKKA COCKTAIL LOUNGE | Sam Levy's Village | 0772 281 709 0779 127 589 | Tues - Sat | Sushi and cocktail bar with menu | | P |
| NUMERO UNO BAR LOUNGE | 226 Carrick Creagh Road, Greystone Park | 0772 831504 | Mon - Sat | | | P |
| O'HAGAN'S | Sam Levy's Village | 04-862991 / 0774 362 717 | Mon - Sun | Irish themed pub with pub menu, grills and platters. | | P |
| RED BAR | Newlands Shopping centre | 04-782945 / 0773 213714 | Mon - Sat | | | P |
| SHERWOOD PUB & GRILL | Mabelreign Country Club, Warbury Road | 04-331089 / 305291 | Mon - Sat | | | P |
| THE FLAT DOG DINER | 5 Harrow Road, Msasa | 0772 348 627 | Mon - Sat | meat, fish dishes | | P |
| THE LOUNGE | Newlands Shopping centre | 0776 270702 | Mon - Sat | | | P |
| THE MAIDEN | Harare Sports Club | 04-702669 / 0774 362 717 | Tues - Sat | A modern pub situated next to the cricket grounds. | YES | P |
| 40 CORK ROAD | 40 Cork Road, Belgravia | 04-253586, 0772 191136 | Mon - Sat | Coffee shop that serves lunches and cakes. | YES | SC |
| BOTTOM DRAWER | 14 Maasdorp Ave, Belgravia | 04-745679 / 0772 235566 | Mon - Sat | Coffee shop that serves light lunches.
 | YES | SC |
| BRENTOS | 16 Greendale Ave | 04-497504 | Mon - Sun | Easy going coffee shop that serves light lunches. | YES | SC |
| CAFÉ AFRIQUE | Cresta Oasis Ho | 04-790861-4 | Mon - Sun | | | SC |
| CAFÉ ESPRESSO | 49 Cork Road, Avondale | 04-797491 / 0776 270702 | Mon - Sun | landscaped garden | YES | SC |
| CAFÉ NOIR | Helensvale Shopping Centre | 0772 816858 | Mon - Sat | | YES | SC |
| CAFÉ NUSH | Avondale Shopping Centre | 04-335201 | Mon - Sun | A modern coffee shop with a large menu. | YES | SC |
| COLCOM KITCHEN | Sam Levy's Village, Borrowdale | 0776 617750 | Mon - Sat | | | SC |
| DELICIOUS | Sam Levy's Village | 0772 329355 | Mon - Sun | Continental food. | YES | SC |
| GIOVANNI'S | 51 Arundel Village | 04-369734/5, | Mon - Sun | An Italian / Med coffee shop | YES | SC |
| GREEK SIZZLER | Pomona Shopping Centre | 04-883621 | Mon - Sun | Continental / coffees with bakery attached. | YES | SC |
| LA PATISSERRIE | Rainbow Towers | 04-772633 / 9 | Mon - Sun | | | SC |
| MEIKLES LOUNGE | Meikles Ho, Jason Moyo Avenue | 04-707721 | Mon - Sat | | | SC |
| PISTACHIOS | Sam Levy's Village. | 0774 280507, 0773 494520 | Mon - Sat | Breakfast or a quick lunch. | | SC |
| QUEEN OF HEARTS | 1 Hurworth Road, Highlands | 0779 948 835 | Mon - Sat | Serves light lunches and high teas. | YES | SC |
| SHOP CAFÉ | Doon Estate,1 Harrow Road, Msasa | 04-446684 | Tue - Sat | Light lunches and Vegetarian | | SC |
| SOPRANOS | 6 Argyle Rd, Avondale | 04-333833 | Mon - Sun | Coffees and light cafe lunches. | YES | SC |
| THE BISTRO | The Corner House, 2 Kingsmead Road/Borrowdale Road | 04 851231 | Mon - Sat | Continental. Go for coffee or lunch. | | SC |
| THE OLIVE | 11 College Road, Alexander Park. Harare. | 0774 455714 | Mon - Sun | Coffee or lunch. Evening dinner. | YES | SC |
| VELDEMEERS | Doon Estate. 1 Harrow Road, Msasa | 04-486169 | Mon - Sat | Belgian chocolates, coffee and pastries. Take some pastries home. | YES | SC |
| WILLOW BEAN | 216 Rolf Valley Road | 04-850294 | Mon - Sun | Good coffee shop that serves breakfast light lunches. | YES | SC |
| ANTONIOS DELI & EXPRESS TAKEOUT | Lewisham Shops | 04-497 127 / 0776 520 551 | Mon - Sun | Mediterranean / Deli | | T |
| CHANG THAI | Shop 4, Doon Estate, 1 Harrow Road, Msasa | 04-485609 / 0773222276 | Mon - Sun | Thai | | T |
| HAMBURGER HUT | 16 Linsay House, Eastlea Shopping Centre | 04-746746 / 0772259719 | Mon - Sun | Hamburgers | | T |
| KOW LEE | 18 Craster Road, Southerton | 04-664077 / 0773011746 | Mon - Sun | | | T |
| | | | | | | |
| KEY TO GUIDE | | | | | | |
| LUXURY (L) | | | | | | |
| EXOTIC (E) | | | | | | |
| FAMILY & CASUAL (F) | | | | | | |
| SMART COFFEE SHOP, BISTRO & CAFES (SC) | | | | | | |
| EASY GOING COFFEE SHOPS (EC) | | | | | | |
| BAR & PUB FOOD (P) | | | | | | |
| TAKE AWAYS (T) | | | | | | |
| | | | | | | |