Richard Leakey, fossil hunter and champion of elephants
World-renowned Kenyan conservationist and fossil hunter Richard Erskine Frere Leakey, whose discoveries helped prove that humankind evolved in Africa, died at home in the Ngong Hills, Kenya on Sunday, 2 January 2022 at the age of 77.

"I have this afternoon... received with deep sorrow the sad news of the passing away of Dr Richard Erskine Frere Leakey," President Uhuru Kenyatta said in a statement late Sunday.
Marta Mirazón Lahr, the author of one of the articles I have used writes that Richard Leakey was special: "fun, insightful, generous, with a sharp sense of humour and a fabulous cook and sommelier. He embraced life, good and bad, and imbued those around him with the sheer excitement of what could be done, discovered, resolved and enjoyed."
The information in this article is taken principally from the three articles I have referenced at the end of this article. All pay homage to Richard Leakey's great achievements in life.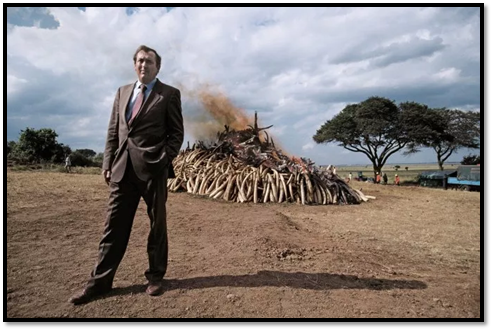 Photo J&A Scott: Richard Leakey in front of burning ivory in Nairobi National Park, Kenya, July 18, 1989
Early Years
Born on 19 December 1944 at Nairobi, a third-generation Kenyan, Richard was the middle child of pioneers in African palaeontology and archaeology, Louis and Mary Leakey, probably the world's most famous fossil discoverers from their work at Olduvai, Kenya, which significantly pushed back the evolutionary age of humanity.
Richard left school at 16 years old to open a wildlife-trapping and fossil-selling business that changed within a year into guiding photo safaris[i], earning enough to pay for flying lessons and his own small plane. Flying clients to Olduvai at 17 years old he saw from the air the paleontological potential of nearby Lake Natron. His discoveries there later led him, in 1967, to investigate Lake Turkana, where he eventually discovered the skulls of Homo hablis (1.9 million years old)
The fossil hunter
In 1963, a mix of interest in his parents' world and a wish to prove himself to them lured him into the study of the past, and he found his first important hominin fossil - a 1.5 million-year-old mandible[ii] of Paranthropus boisei - in 1964.
In 1967 his father asked him to direct an expedition to the Omo Valley of southern Ethiopia. There, Leakey found two Homo sapiens fossils now known to be 230,000 years old, key evidence of our species' African origins.[iii]
Months later flying over the eastern shore of Lake Turkana, he recognized the potential of sediments at Koobi Fora, which proved to be a treasure trove of hominin fossils.[iv] In the same year, aged 23 he won a research grant from the National Geographic Society to dig on the shores of northern Kenya's Lake Turkana, despite having no formal archaeological training. The discovery of different hominin species living at the same time between 2 million and 1.5 million years ago (P. boisei, Homo habilis, Homo rudolfensis and Homo erectus) changed views of how humans evolved.[v]
In 1968, Leakey became director of the National Museums of Kenya, which became a hub of thriving research. His first marriage was to British archaeologist Margaret Cropper, they had two children and divorced in 1969. Soon afterwards, he met the young British zoologist Meave Epps, they married in 1970 and they became life-long personal and scientific partners. Their work with researchers dubbed the Hominid Gang, led by Kamoya Kimeu, resulted in the discovery of dozens of hominin fossils.
In the 1970s he led expeditions that advanced the scientific understanding of human evolution with the discovery of the skulls of Homo habilis (1.9 million years old) in 1972 and Homo erectus (1.6 million years old) in 1975.[vi]

A TIME magazine cover followed Leakey posing with a Homo habilis mock-up under the headline "How Man Became Man."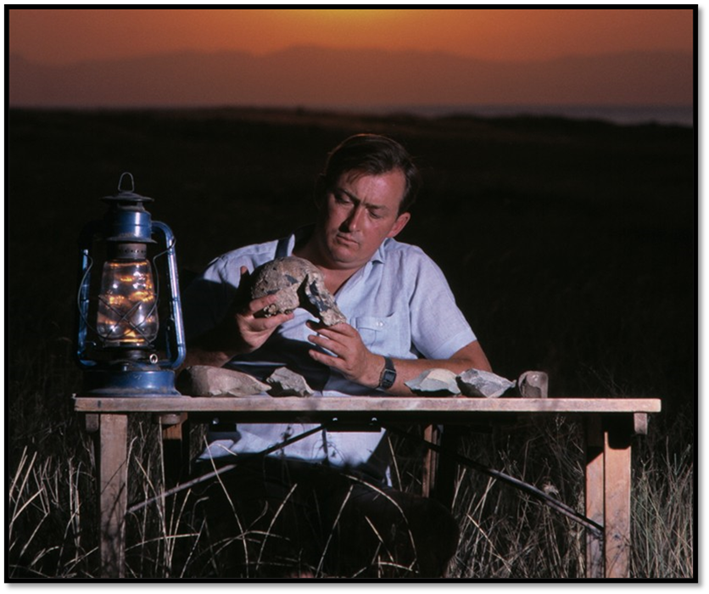 Photo: William Campbell/Sygma/Getty
Leakey battles with health problems
His health deteriorated, and he had his first kidney transplant (donated by his brother Philip) in 1980[vii] that both saved and extended Richard's life. He developed skin cancer and his health became progressively worse. In 2006 he underwent a second kidney transplant in 2006, with his wife being the kidney donor and a liver transplant in 2013. Despite these health handicaps he remained energetic into his 70's. Softly-spoken and seemingly devoid of personal vanity, Leakey stubbornly refused to give in to health woes.

Leakey's career flourishes
Then in 1981, his fame grew even further when he fronted "The Making of Mankind," a seven-part BBC television series.

Yet the most famous fossil find was to come three years later: the uncovering of an extraordinary 1.5 million year old, near-complete Homo erectus skeleton during one of his digs in 1984, which was nicknamed Turkana Boy. This remains the most complete fossil skeleton of a distant human ancestor ever found.[viii]
A year later the Richard Leakey-led team discovered Australopithecus aethiopicus, also known as Paranthropus aethiopicus, about 2.5 million years old. This fossil is the subject of enduring debate as to whether it represents an authentically distinct species or is another example of a species whose partial skeletons were found by others in 1968 and 1976.[ix]
The battle against ivory poachers and the slaughter of elephants
As the slaughter of African elephants reached a climax in the late 1980's driven by an insatiable demand for ivory, Leakey emerged as one of the world's leading voices against the then legal global ivory trade.

In 1989 President Daniel arap Moi asked Leakey to lead and reorganize the National Wildlife Agency, soon to be named the Kenya Wildlife Service (KWS) This was midway through a catastrophic four-year drought. The drought brought a massive elephant die-off compounded by an explosion of ivory poaching that cut the number of elephants in the Tsavo region from a peak of 25,000 in 1972 to barely 5,000.[x]
The same year Leakey pioneered a spectacular publicity stunt by burning a pyre of ivory, setting fire to 12 tons of tusks in order to make the point that they have no value if the ivories are removed from elephants.[xi] In 1989 The Convention on International Trade in Endangered Species [CITES] imposed the global ban on ivory trafficking that remains in effect today.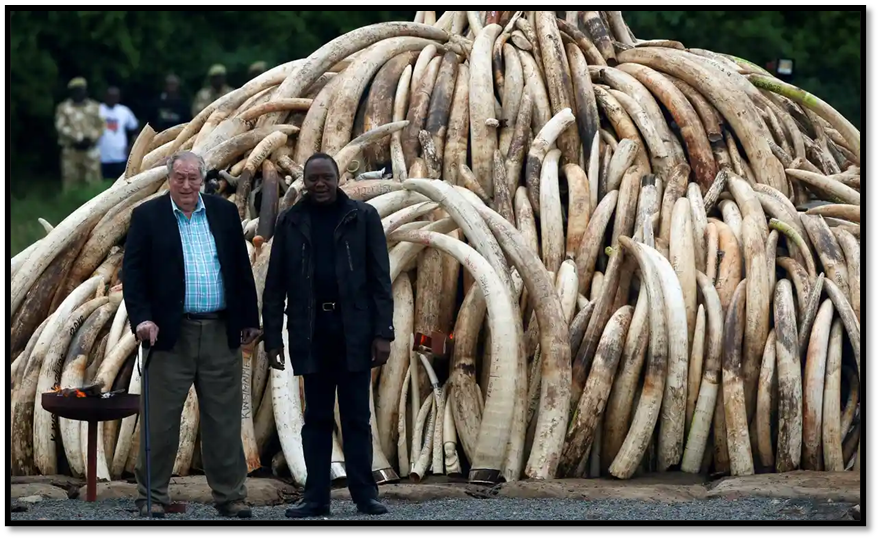 Photograph: Siegfried Modola/Reuters: Richard Leakey, alongside the Kenyan president, Uhuru Kenyatta, with confiscated ivory and rhino horn in 2016
Leakey declared war on poachers, holding his nerve, without apology, when implementing a shoot-to-kill order against armed poachers. The number of poached elephants fell hugely.

In 1993, his small Cessna plane crashed in the Rift Valley where he had made his name. He survived but lost both legs. Sabotage was rumoured.[xii]

"There were regular threats to me at the time and I lived with armed guards. But I made the decision not to be a dramatist and say: 'They tried to kill me.' I chose to get on with life," he told the Financial Times. Richard Leakey detailed this part of his life in a book, Wildlife Wars: My Fight to Save Africa's Natural Treasures (2001), co-written by Virginia Morell.[xiii] He also wrote One Life, Richard E. Leakey, An Autobiography (1984) and The Making of Mankind (1981)
Leakey's third career as opposition politician
His relationship with President Daniel arap Moi became increasingly hostile and in 1995 Leakey was forced out of the KWS and created an opposition party, Safina (Noah's Ark) Elected to Parliament in 1998 he joined the chorus of voices against Moi's corrupt regime. His time in opposition as a corruption watchdog was tense, Leakey was beaten and received death threats and his political career eventually stalled and met with less success.
Back at the KWS and fighting the elephant poaching crisis and political corruption
Kenya needed to attract foreign investments but the country had a reputation for corruption. Wikipedia states: "international donor institutions froze their aid to Kenya because of widespread corruption." President Moi decided to exploit Leakey's reputation for integrity and in 1998 asked him to direct the KWS again and in 1999 to placate donor countries as cabinet secretary and head of Kenya's civil service. Wikipedia continues: "25,000 civil servants were sacked and Kenya obtained £250 million of funds from the International Monetary Fund and the World Bank." However, Leakey found himself side-lined after the money arrived and his reforms were blocked in the courts. The task proved impossible and he resigned after just two years.[xiv]

Creating the Turkana Basin Institute
In 2002, Stony Brook University, New York offered him a post that allowed him to live in Kenya and create the Turkana Basin Institute (TBI), which he chaired from 2005 until his death. TBI fostered a burst of discoveries: Miocene primates, hominins, the oldest stone tools in the world at 3.3 million years, evidence of prehistoric warfare and the earliest monumental architecture in sub-Saharan Africa.[xv]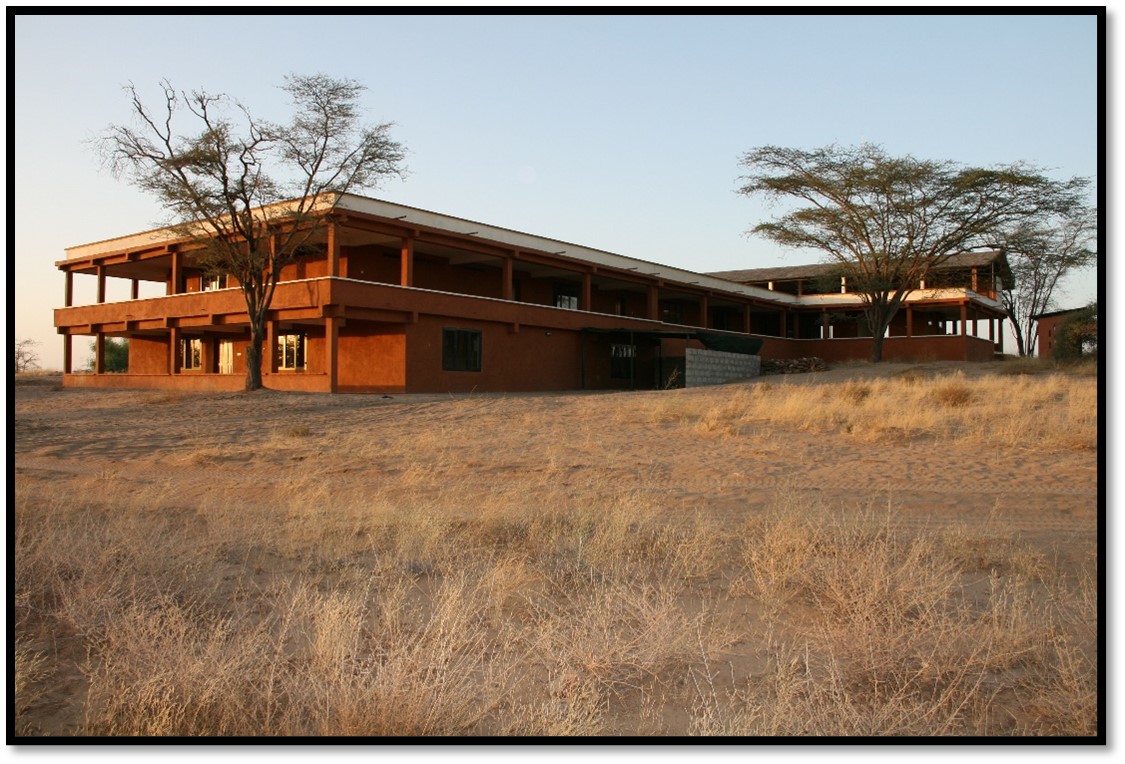 Recently constructed laboratory at TBI's Turkwel research facility.
Leakey's recent Conservation and anti-corruption efforts
In 2004, Leakey founded WildlifeDirect, with Harold Wackman, the former World Bank representative to Kenya, a non-governmental conservation body, serving on its board for 10 years. In 2007, he became chair of Transparency International Kenya, continuing his battle against corruption.
In 2015, as another elephant poaching crisis gripped Africa, President Uhuru Kenyatta[xvi] asked Leakey to again lead the KWS, as chairman of the board, a position he would hold until 2018. Wikipedia notes: "He brokered a deal on the extension of the [Chinese-financed] Mombasa–Nairobi Standard Gauge Railway, allowing the railway to pass over Nairobi National Park. Leakey felt that the viaduct would set an example for the rest of Africa in balancing economic development with environmental protection."
Since 2016 he worked to create a new Kenyan museum, called Ngaren to celebrate science, evolution and humanity's African origins.[xvii]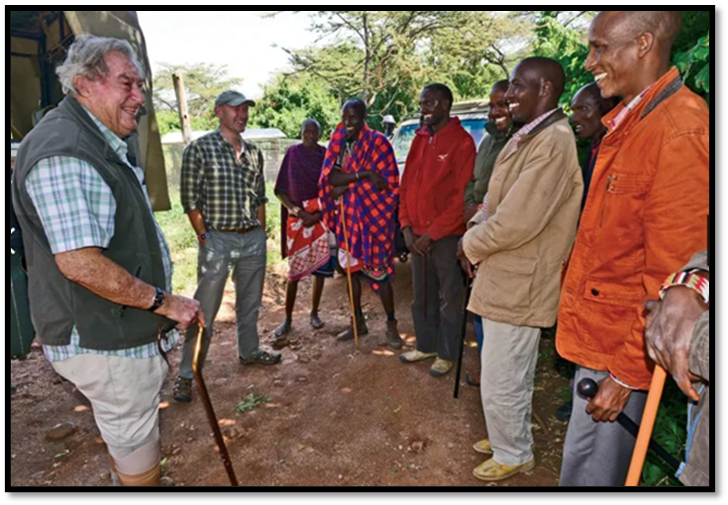 Photo Graham Boynton: Richard Leakey in the Mara region with tribal elders
Tributes on Richard Leakey's death
Deputy President William Ruto said Leakey "fought bravely for a better country" and inspired Kenyans with his enthusiasm for public service.

"Richard was a very good friend and a true loyal Kenyan. May he Rest In Peace," Paula Kahumbu, head of Wildlife Direct, a conservation group founded by Leakey, posted on Twitter.
Cynthia Moss, director and founder of the Amboseli Elephant Research Project wrote: "The world has lost one of the most extraordinary men I've ever known. His life was full of adventure, discovery and passion for both the past and the present. He was very opinionated and impatient with those he thought were a waste of his time. I felt very fortunate, indeed, that he made time for me and agreed to be on the board of the Amboseli Trust for Elephants."
Joyce Poole, who headed the Kenya Wildlife Service elephant program under Richard Leakey from 1990 to 1994 said: "Through his leadership we were able to turn the tide for Kenya's elephants and build a generation of Kenyan conservationists whose strong voices can be heard loud and clear. Richard could be brusque, impatient and even rude and he didn't suffer fools gladly. But he would move heaven and earth for those he admired and liked."
References
Marta Mirazón Lahr. 28 January 2022. Richard Leakey (1944–2022) Palaeontologist of human origins, conservationist and politician. Nature 602, 29 (2022) https://www.nature.com/articles/d41586-022-00211-6
Richard Leakey, Fossil Hunter and Defender of Elephants, dies at 77. 2 January 2022. Voice of America. https://www.voanews.com/a/richard-leakey-fossil-hunter-and-defender-of-e...
Merritt Clifton. 5 January 2022. Richard Leakey, 77, saved elephants & found missing links to veg past. https://www.animals24-7.org/2022/01/05/richard-leakey-77-saved-elephants...
Notes
---