Madzimudzangara Cave
Why Visit?:
Very easy access, just 80 metres from the old strip road from Mutoko to Murehwa.
If people need a reminder that the rock art is deteriorating through both natural factors and the action of man, then this cave provides the evidence. Set in an outstanding natural shelter, the paintings are now a mere shadow of what they were and efforts need to be made to record them before they are gone for ever.
How to get here:
From Harare take the A2 towards 143 KM to Mutoko. Just 0.63 KM from Mutoko town turnoff, the old strip road joins from the left. Distances are from the A2 / old strip road intersection: Take the old strip road heading west back to Harare, 13.3 KM park in front of some shops on the left of the road. The cave is 400 metres south west of the shops amongst large boulders visible from the road.
GPS reference: 17⁰25′01.50″S 32⁰05′46.31″E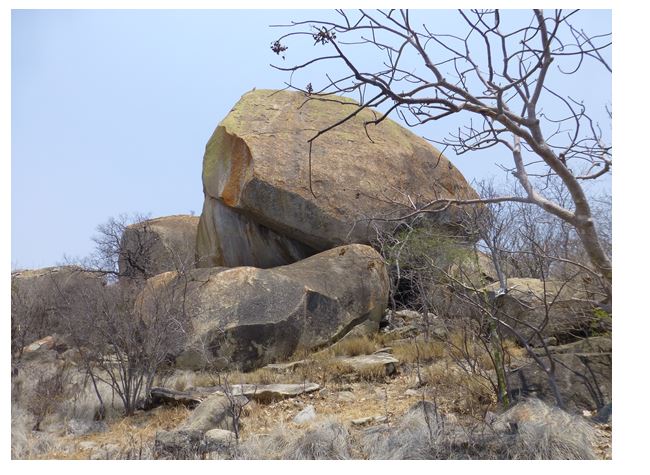 The paintings are so thickly painted it is quite difficult to disentangle them. Unfortunately, many of the paintings are hardly distinguishable due to the mineral salts that have leached from the rock and their proximity to the road means they have been vandalised with charcoal writing and fires.
Top centre of the cave was a magnificent tightly curled snake with white dots; today it is very much faded as shown by the photo below.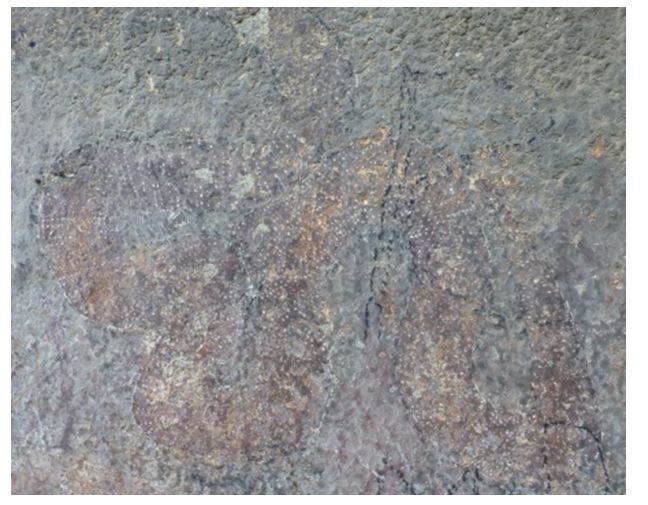 Close by, the above scene painted by Elizabeth Goodall who calls the scene a medicine man and roots. Roots, bulbs and tubes make up to 40% of the images at some sites; wild vegetable foods provided 60 to 80% by weight of their hunter-gatherer diet. They were also important for medicines, bedding, making tools and poisons, weaving materials and hallucinogens. Below is clearly a trance scene. A group of ochre figures including women with aprons; some have white dot outlines and decoration and claws to their hands and feet. Some of the men are lying down; others are falling or have their arms raised as in trance and appear to be supported by the women.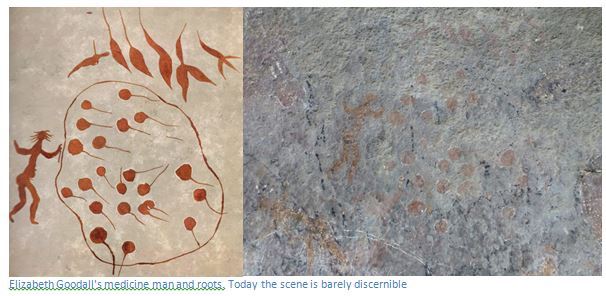 Below a group of small dark hunters with unrealistically large weapons, probably a representation of the gauwasi: dead relatives who try to inflict death on their living relatives, so they join them in the spirit world. The San believe that all members of the community have sickness in them, but through the actions of their dead relatives, the gauwasi, this sickness can turn into a real illness, or injury. The gauwasi prepare their "arrows of sickness" and large elaborate arrowheads, or weapons are a key indicator of this activity. The trancer then engages in a struggle with the gauwasi over the sick person.
Other paintings appear on a boulder supporting the roof including hunters, an elephant and stork or crane and a large wedge shaped figure with lines coming from his head.

Acknowledgements
P.S. Garlake. The Painted Caves, An introduction to the Prehistoric Art of Zimbabwe. modus 1987
C.K. Cooke, J. Desmond Clark, E. Goodall , Edited by R. Summers. Prehistoric Rock Art of the Federation of Rhodesia and Nyasaland. National Publications Trust 1959